Is it ok to wear white In Fall and White? 
What are the rules about wearing white after Labor Day? Can I wear my white jeans in Fall/Winter?
So many questions, lets discuss them.
First of all, there are no rules in my options when it comes to wearing white after Labor Day. There are no rules when it comes to fashion/personal style in general, some might disagree and it's all good. To each its own.
I don't think we should be limited to certain colors because the Season changes. I know, I know, the age-old rule, no white after Labor Day but by now that rule should be thrown out the window.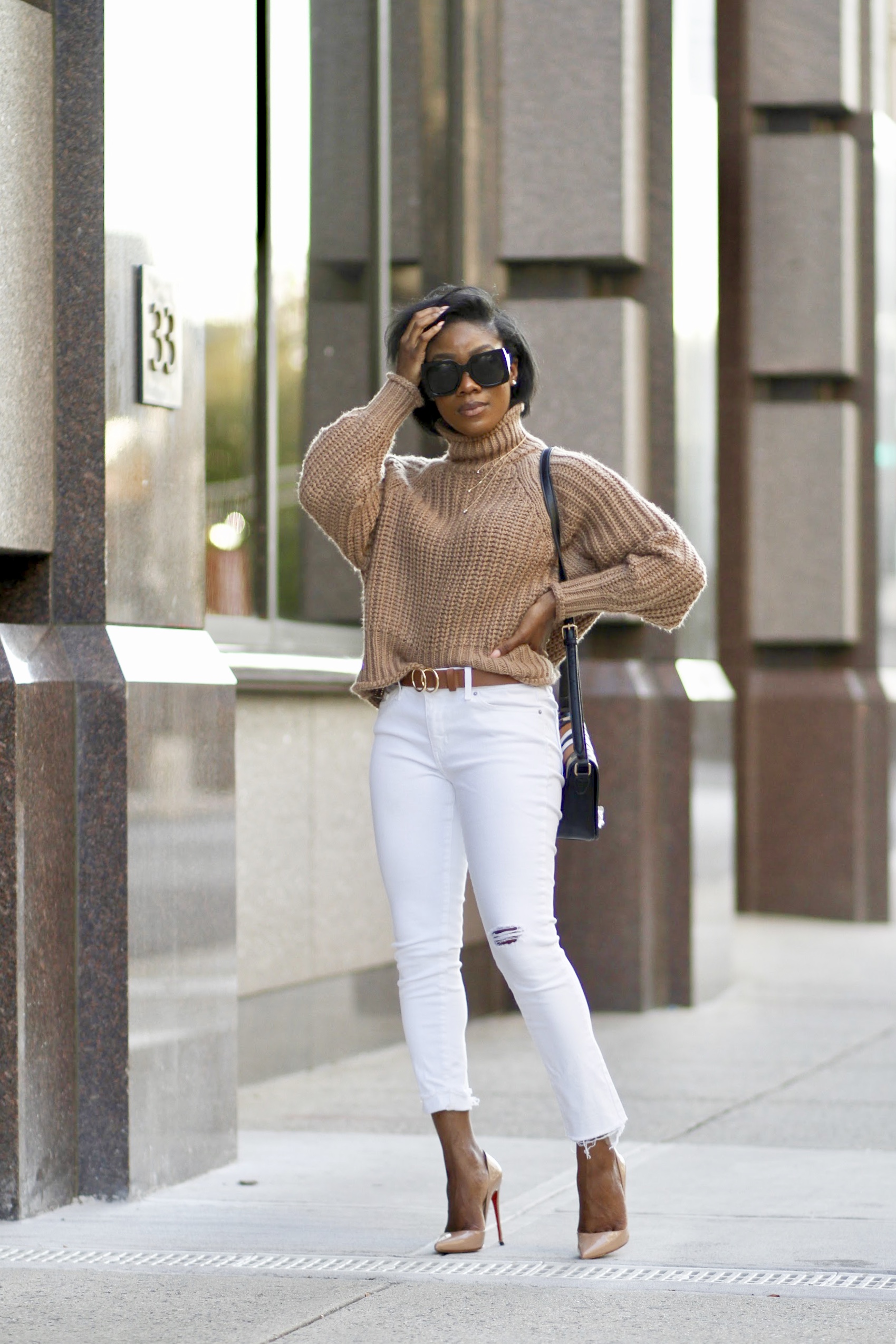 Shop The Look

Personally, I love wearing White in Fall ?& Winter. It's a great way to brighten up dark and gloomy days.  In this post I am going  to share 4 easy ways to incorporate white into your  Fall & Winter wardrobe with seasonal pieces you already have in your closet.
Looking to add white into your Winter wardrobe? Keep reading, I've got you covered
Look 1
Fall-To-Winter Transition Outfit.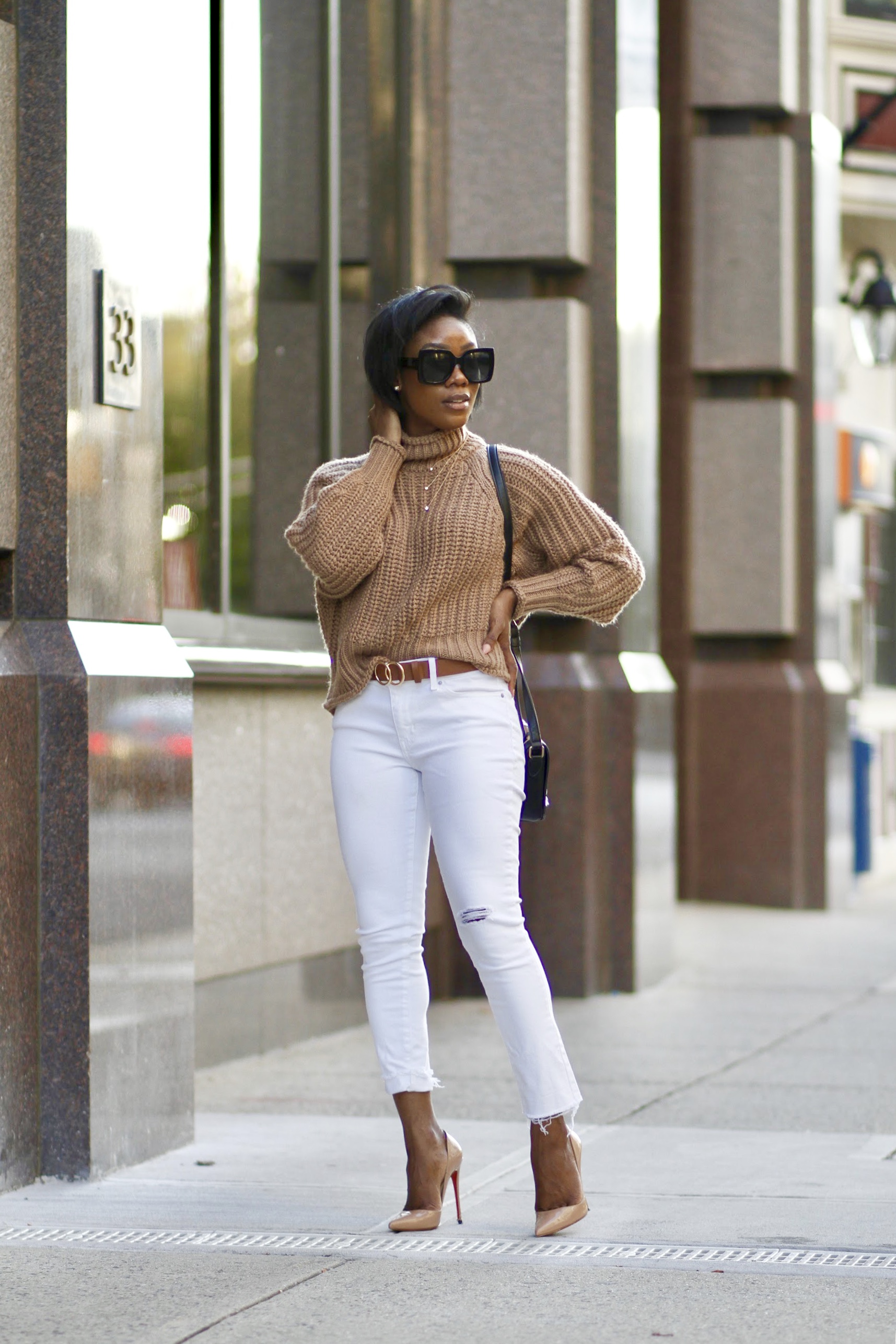 White jeans in Fall/Winter?….. Why not.
White jeans are a great way to add white to your Fall & Winter wardrobe. They are easy to style and can be worn all year. 
You probably already have a pair in your closet.  If you do, make sure it's thick and can withstand the cold weather.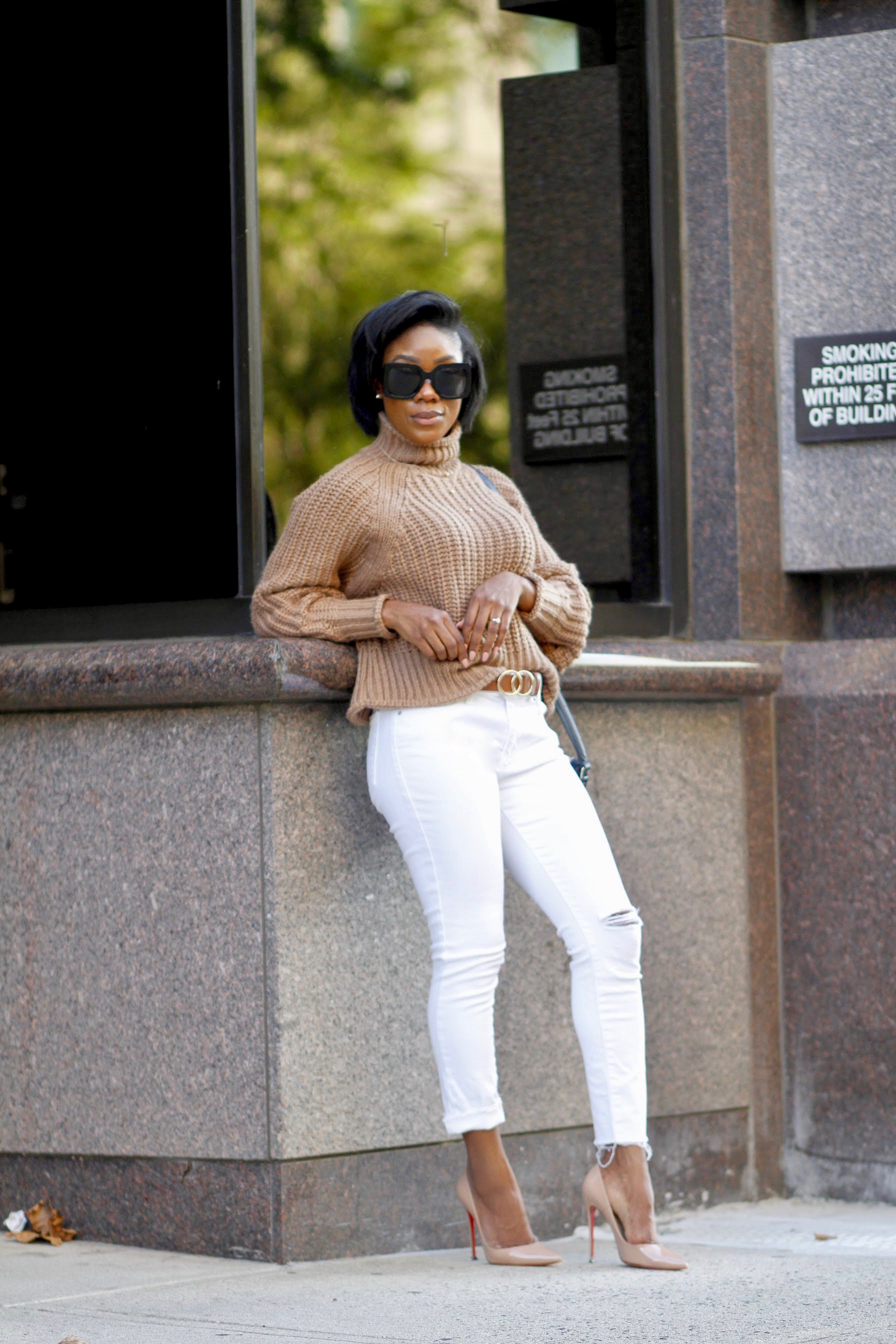 Paired white jeans with a chunky neutrals knit sweater.  Brown, beige, tan or grey will do. I love how the brown pops with the white jeans, it gives a warm yet cool vibe.   Simple yet elegant without trying too hard.
This look can easily be worn with brown booties or over-the-knee boots depending on the occasion.

Look 2
 Summer-To-Fall | Fall ? To Winter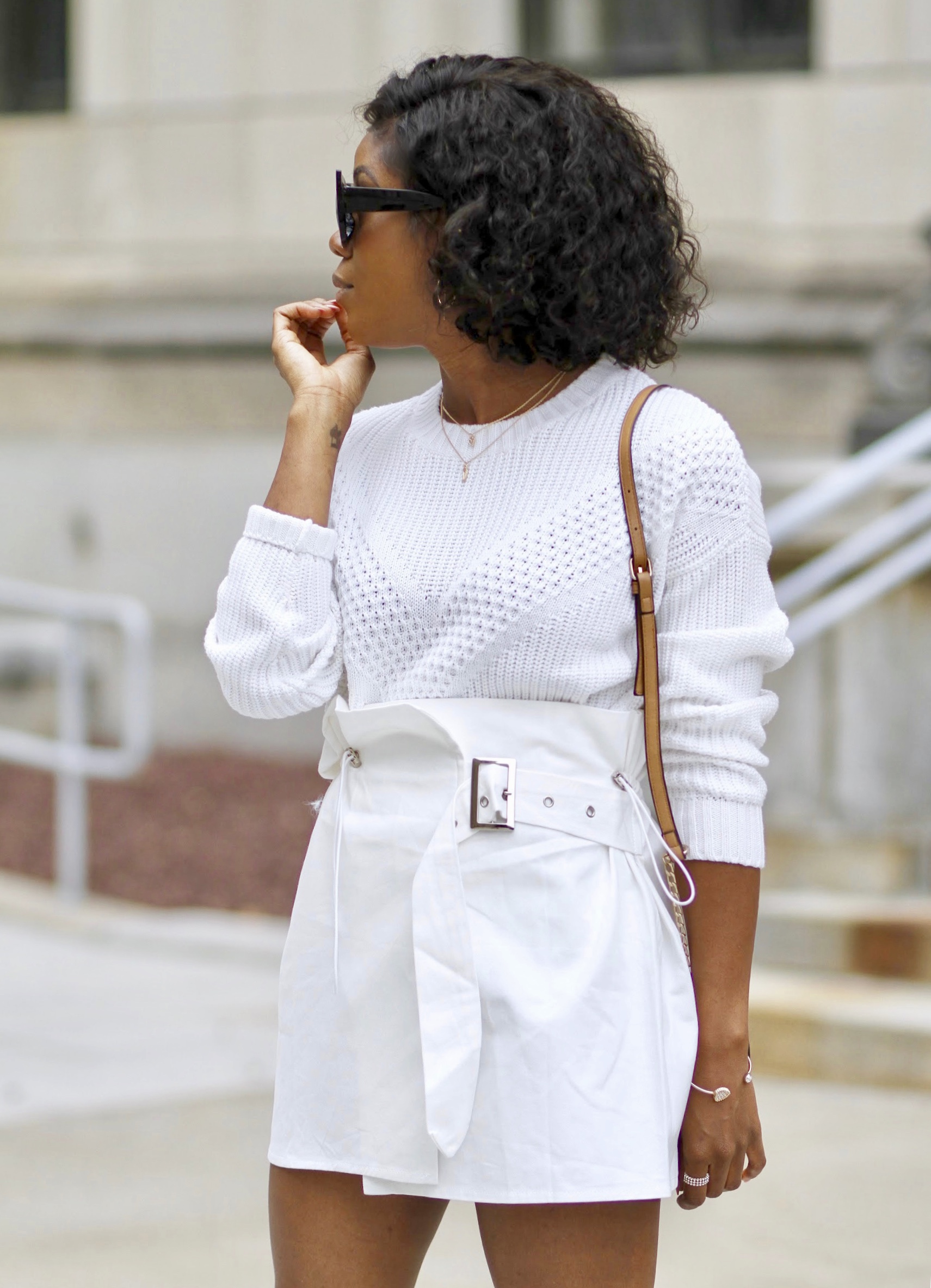 We are going full white on white. I love mixing different shades of white and cream for an effortless crisp look.  This outfit is great for my fashion-forward gals who aren't afraid to make a statement.
The perfect outfit for a day in the city, great for work ( if you work in the fashion or beauty  industry). This  look is giving me major Gossip Girl vibes (the TV show) Leave a comment if you use to watch Gossip Girls.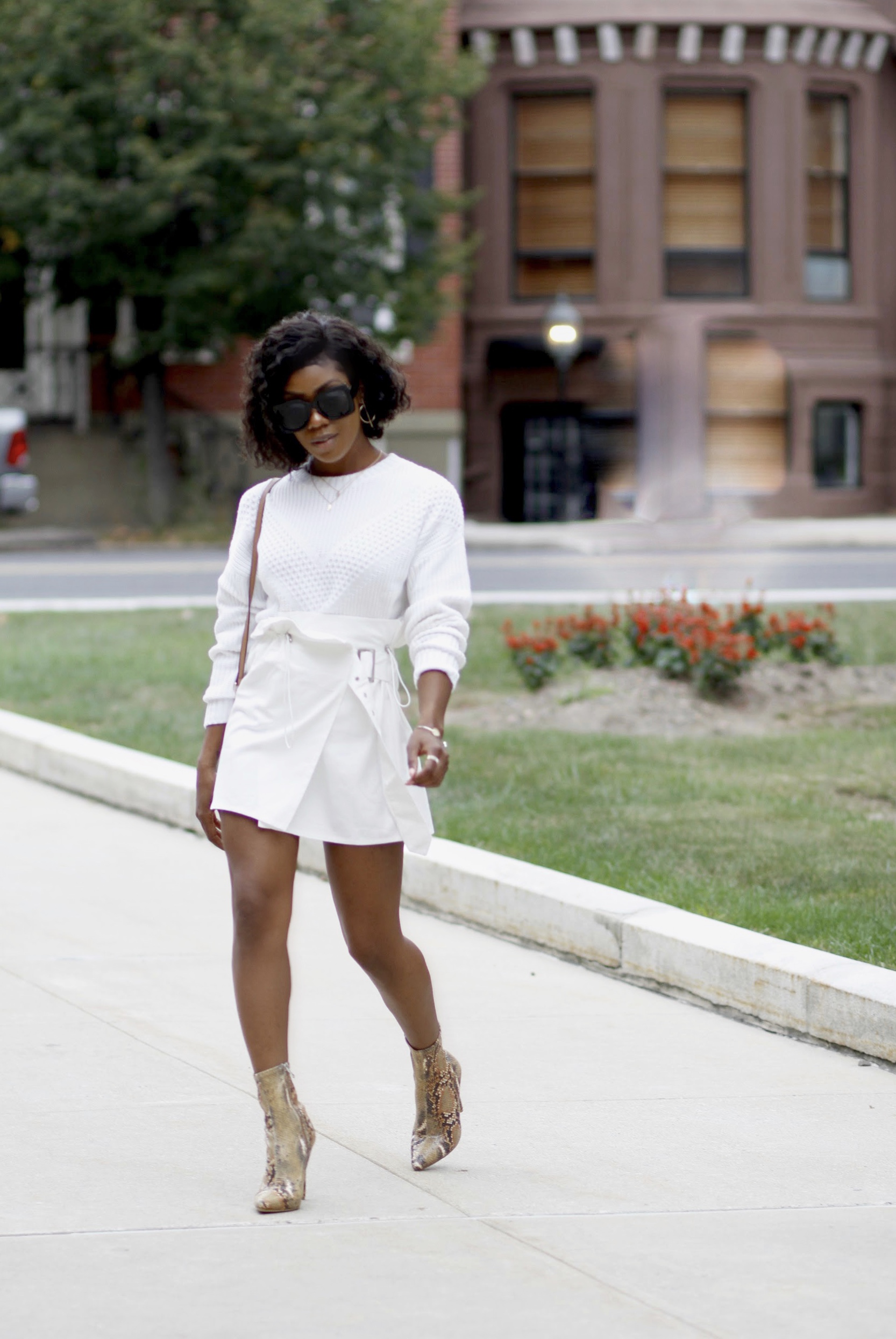 Pair your cozy knit white or off white sweater with a miniskirt and booties. I went for a snakeskin print booties with this look for a pop of color. Snake prints are trending this season and it looks great against the white. 
When the temp drops, wear a over-the-knee boots to keep your legs warm.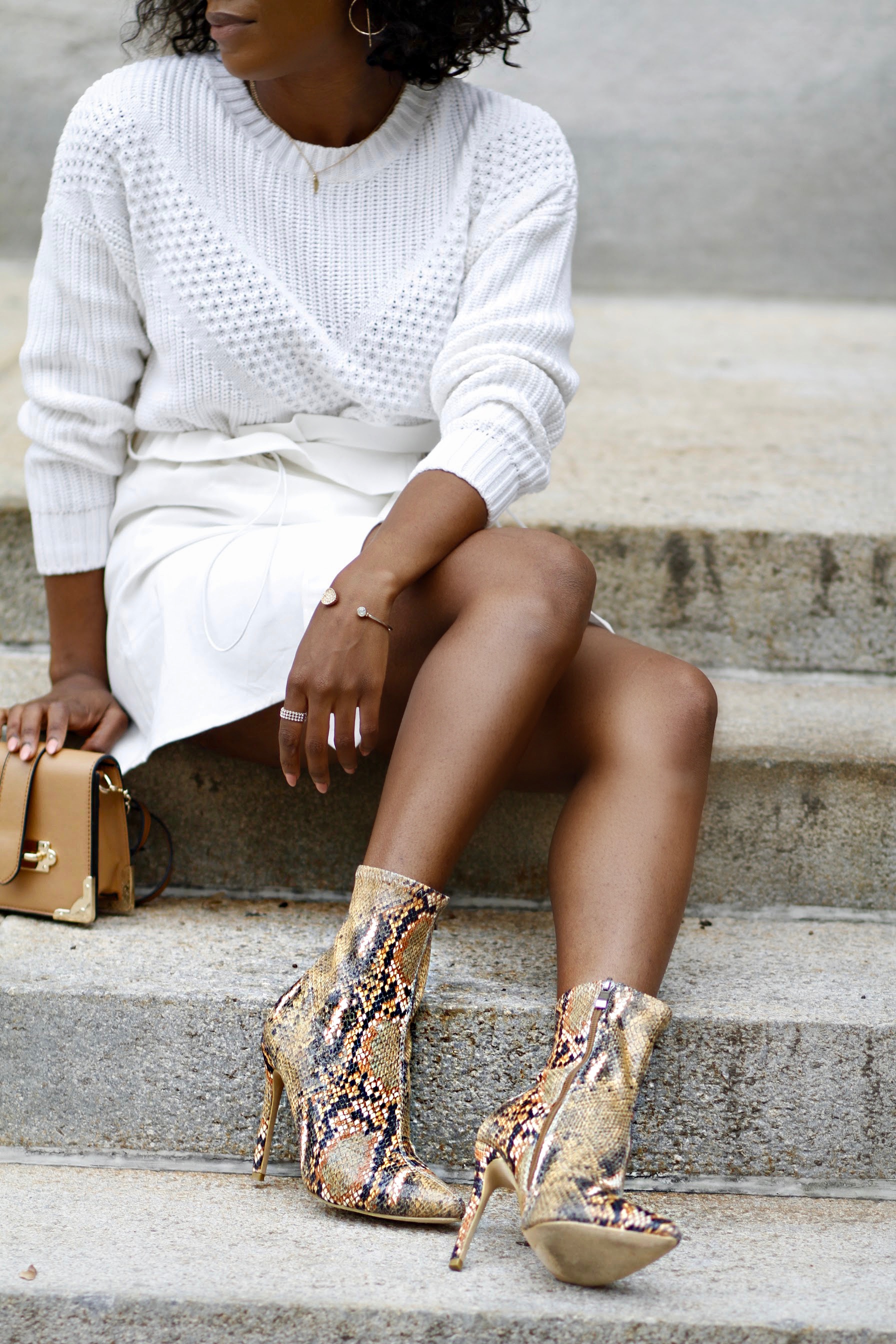 Shop The Look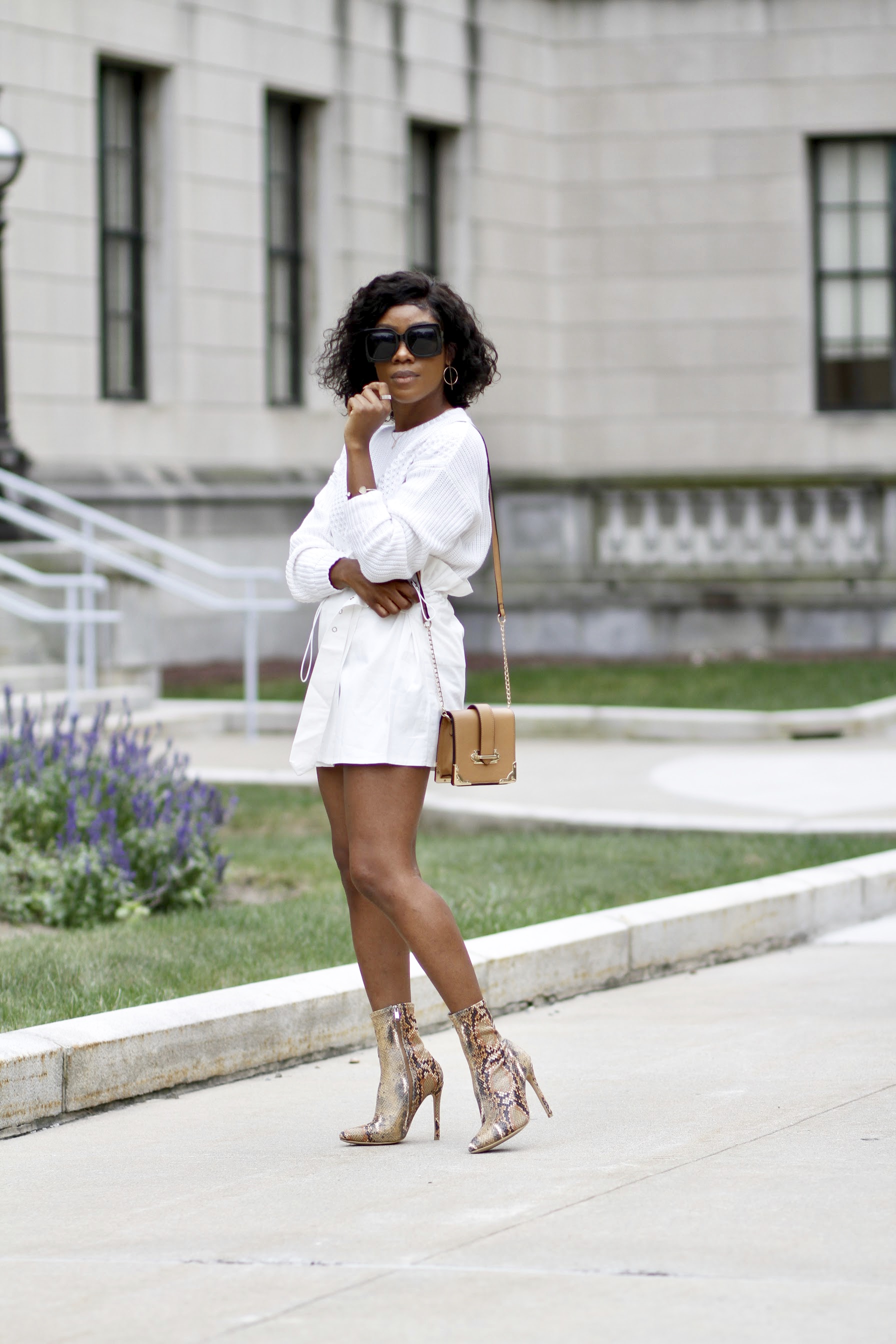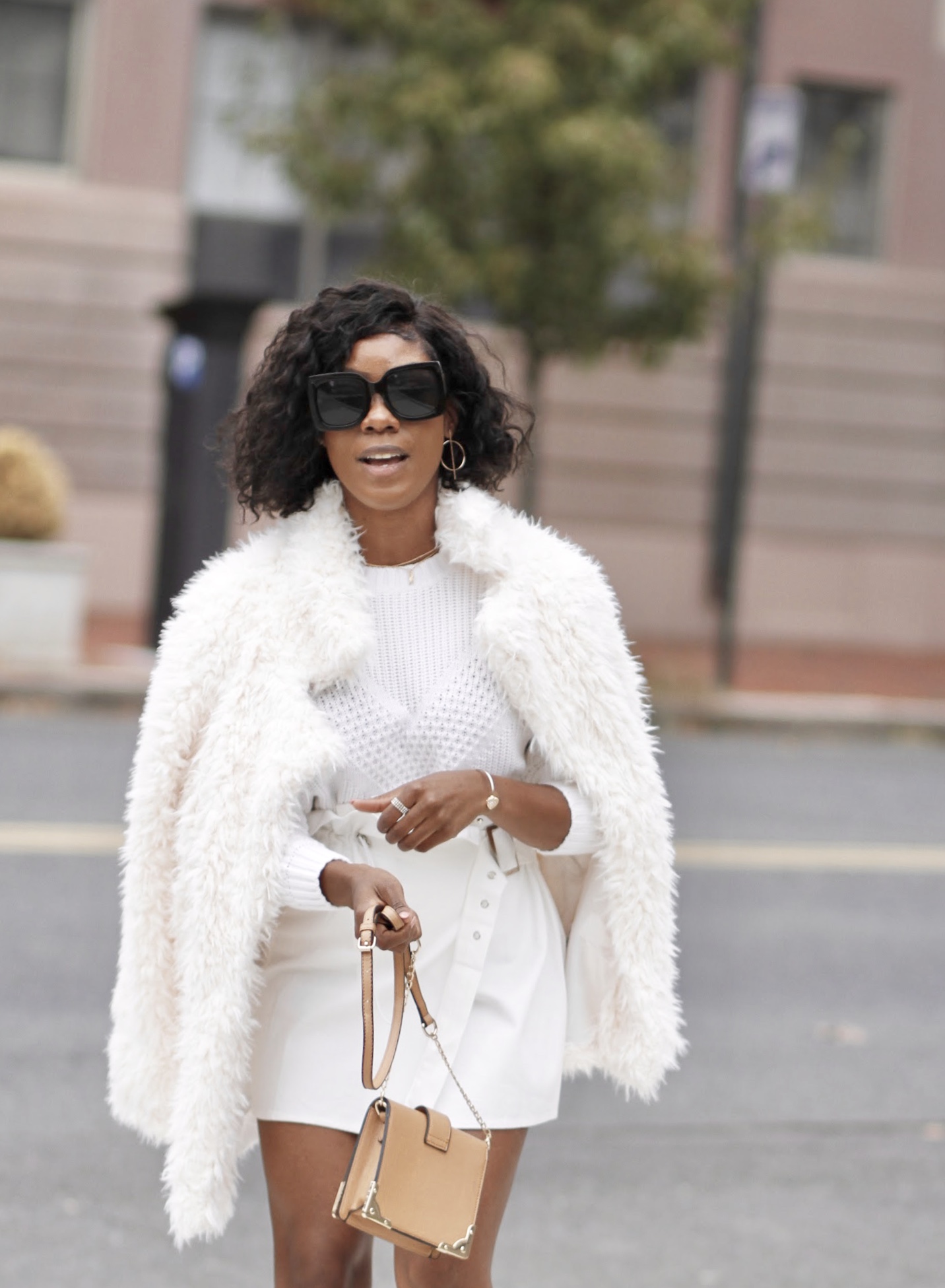 I layered with an off white shaggy coat or teddy coat, whatever you call it.  Alternatives are brown or camel-colored coat. 
Look 3
Summer -To- Fall Workwear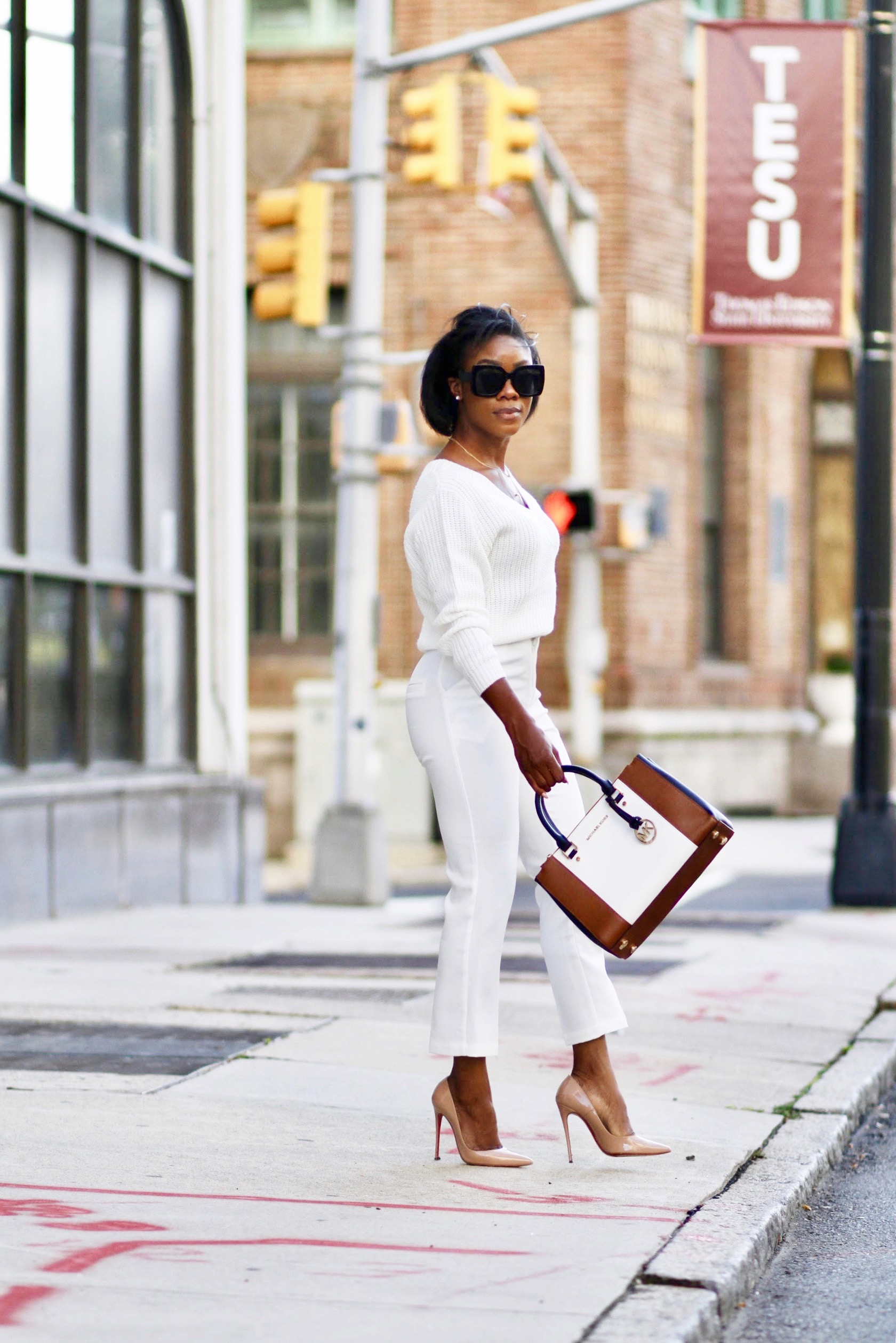 This look is for my corporate  fashionista. Your work style does not have to be boring. Dust off your white dress pants and stye it with your favorite pair of sweater for a chic work look. Sweater color I prefer are, off white, black, brown, tan and grey. Keep it neutral for a classic look.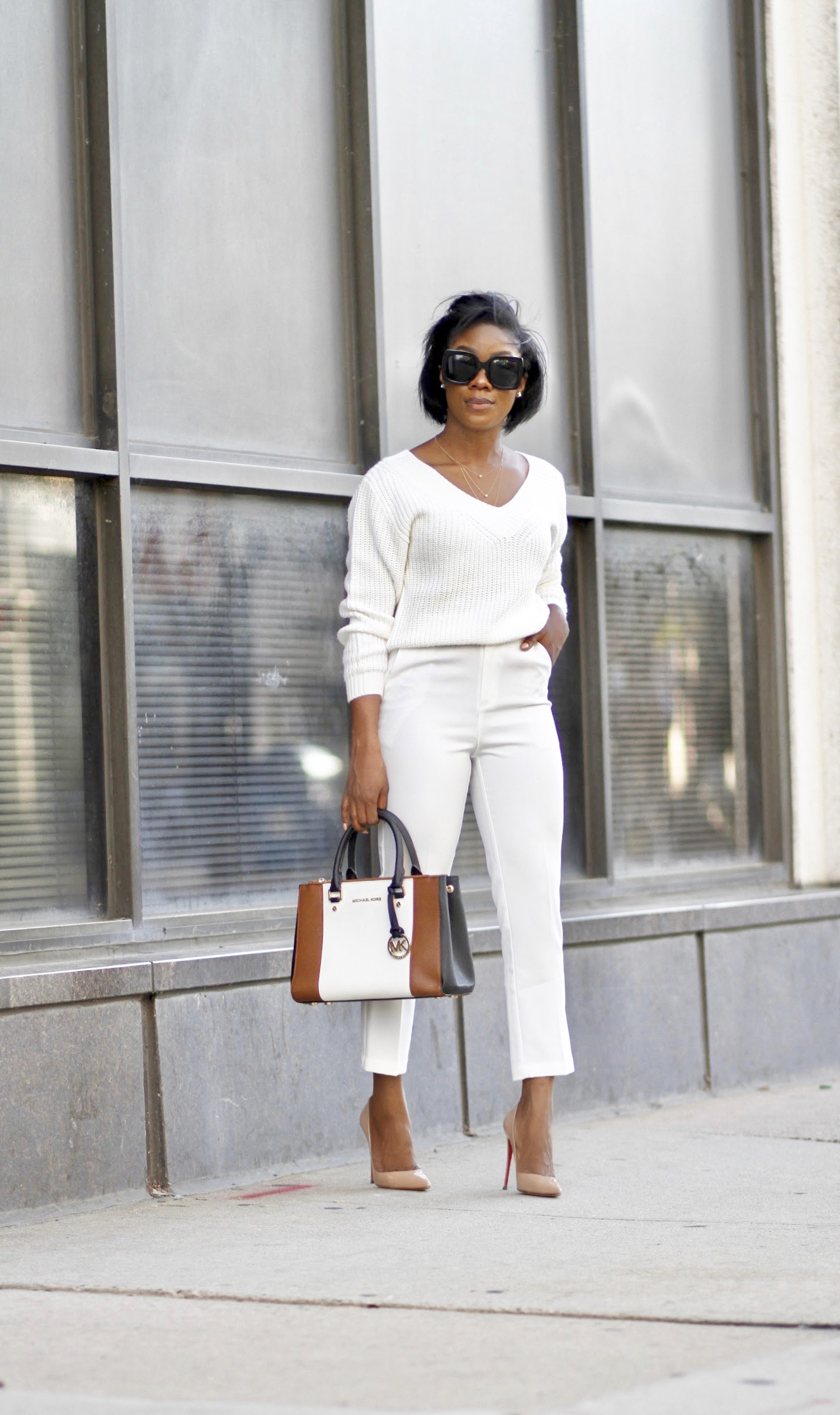 Look 4
Summer-To-Fall Transition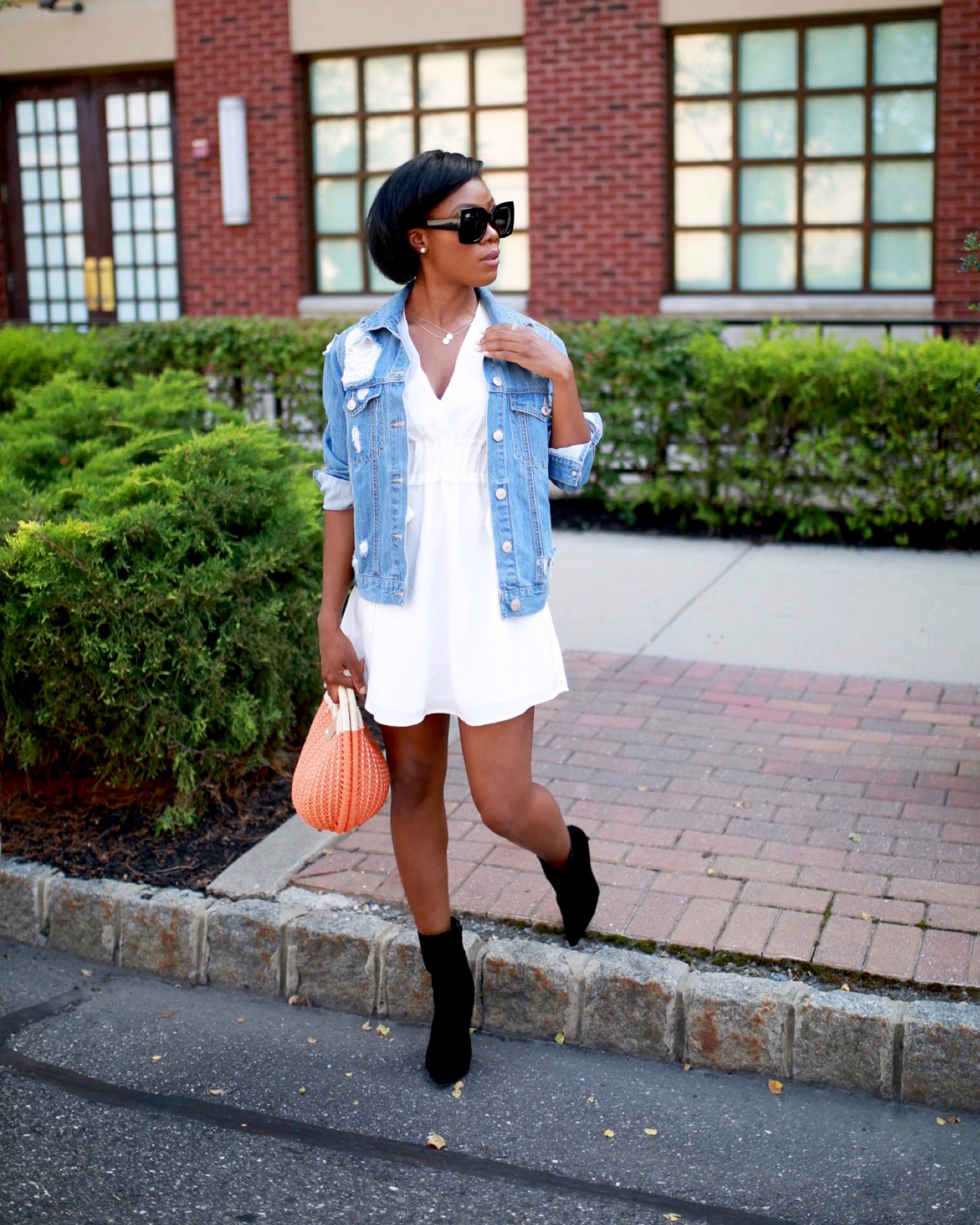 I probably should have done this look first to have it in order of the season, oh well.
This outfit makes for the perfect Summer-To-Fall transition look, when it cool enough to wear a light jacket but still hot where you can pull off your little white dress from summer.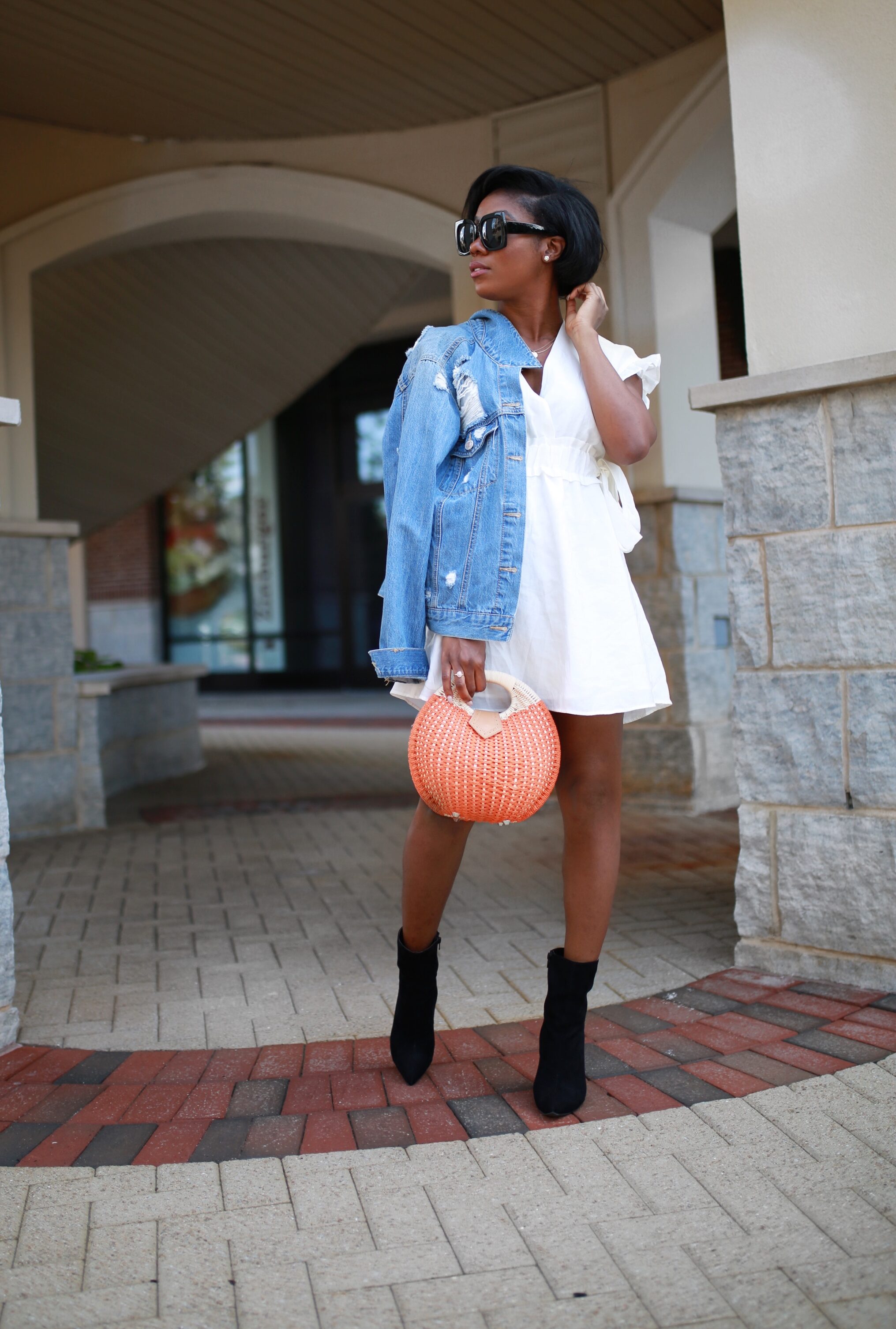 paired it with booties, over the knee boots and layered with a denim jacket, cardigan or moto jacket.
Fall & Winter Off-White Looks
Cozy & Cute Knitted Sets