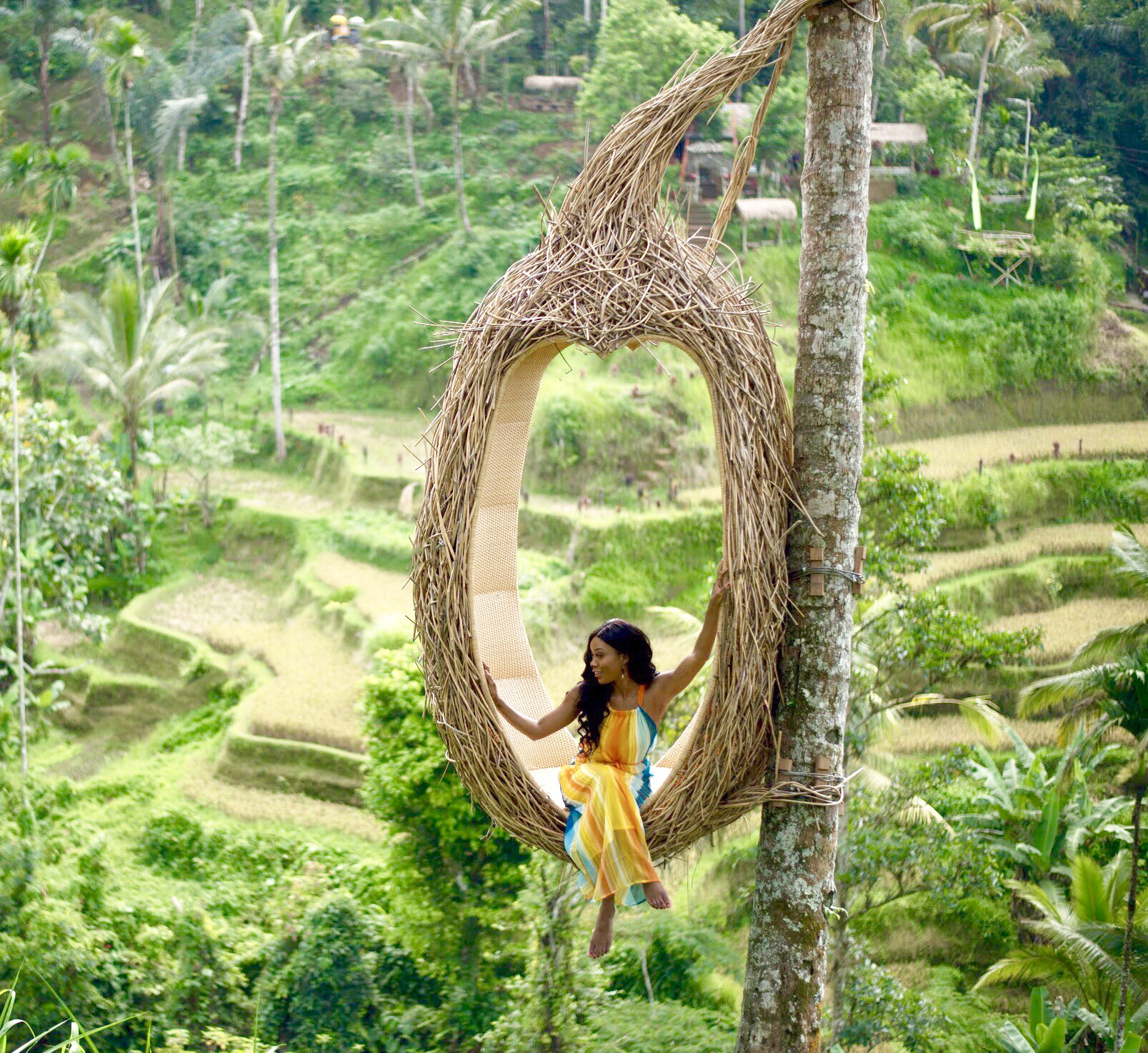 Bali, Indonesia has been on my bucket list since I watched 'Eat Pray Love' before it started trending on Instagram. The end of 2018 seems like the perfect time to embark on my first solo trip as I had gone through my divorce and also turned 30. Read my previous post you haven't done so already ( Eat Pray Love ).
Guys, I don't even know where to start. Bali exceeded my expectations. The trip was absolutely incredible, this is by far one of the best trips that I have ever been on. It was better than the Amalfi Coast and Capri (islands in Italy). I have visited London, Paris, Havana, and Vinales (Cuba), and 4 cities in China but none can compare to Bali in my book. The island is a natural beauty, like no other place. The people are so warm, welcoming, peaceful and ever so honest. I overpaid people twice and they give me back my money.
 The food is delicious, well seasoned and healthy. They speak fairly good English which makes it easy to get around and you get so much more for your money, my entire trip cost me $1,550. When I visited back in December 2018, the conversion rate was 1USD equal to 14IDR.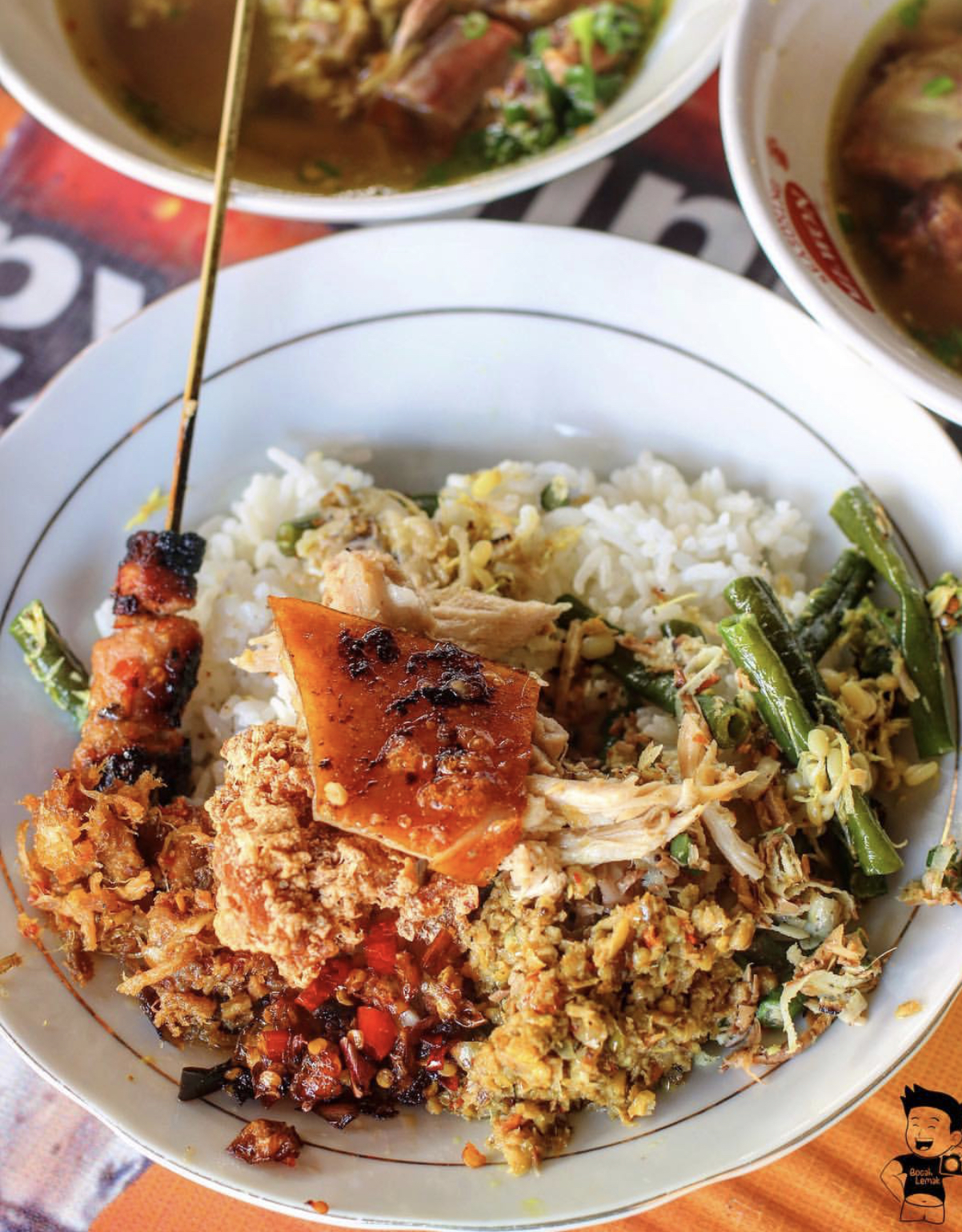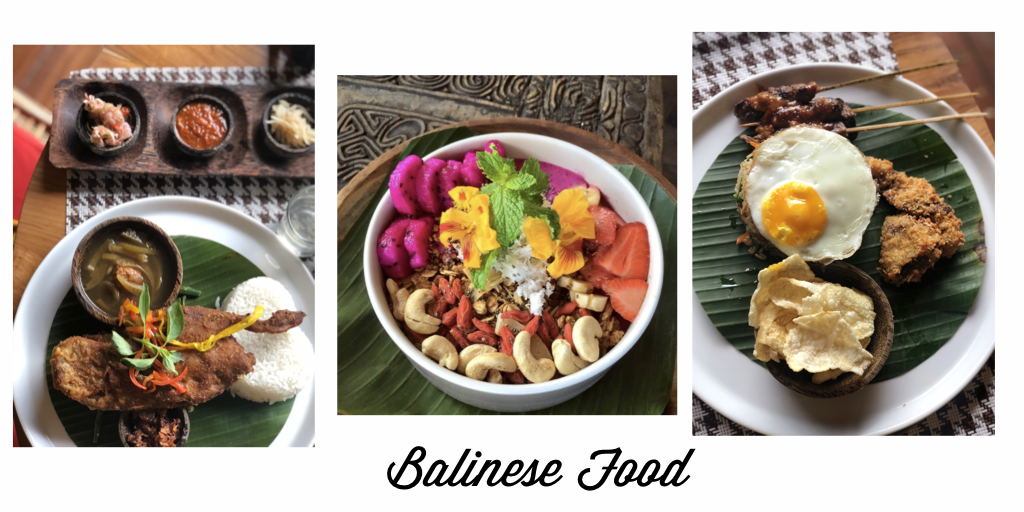 My round trip ticket from JFK (NY) to Kuta (DPS-Denpasar) cost me $480, most of my money went towards the resort I stayed at, Kamadula, which was totally worth it. I later switched to a cheaper hotel for the rest of my trip, it was nice but Kamadulawas my favorite.
I was in Bali for 10 days, I flew from New York to Shanghai, a 15-hour flight with a 12-hour layover in Shanghai. Don't be afraid of layovers, it's a great way to explore a new city. I went sightseeing; it was my first time in Shanghai.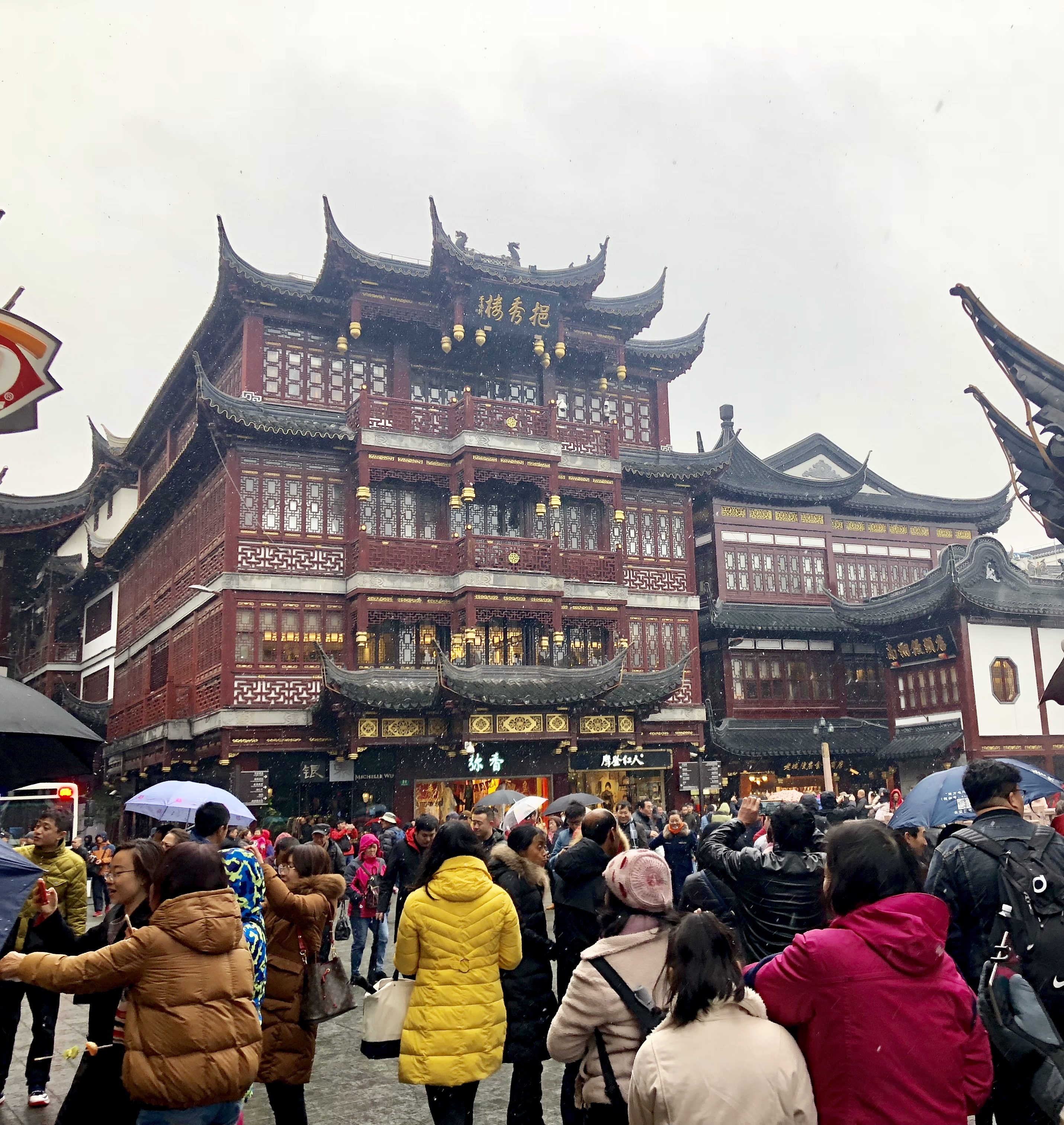 I then went from Shanghai to Kuta (Denpasar); a 6-hour flight. Prior to leaving the states I booked a room by the airport in Kuta because my flight landed at 12 am in Kuta and I did not know what to expect, also I did not want to be traveling late at night in a foreign country alone. I would advise you to do the same if you landing late in Kuta. The hotel room by the airport cost me $23 for the night and that included free airport pick up and breakfast; $23 well spent if you ask me.
My first day in Kuta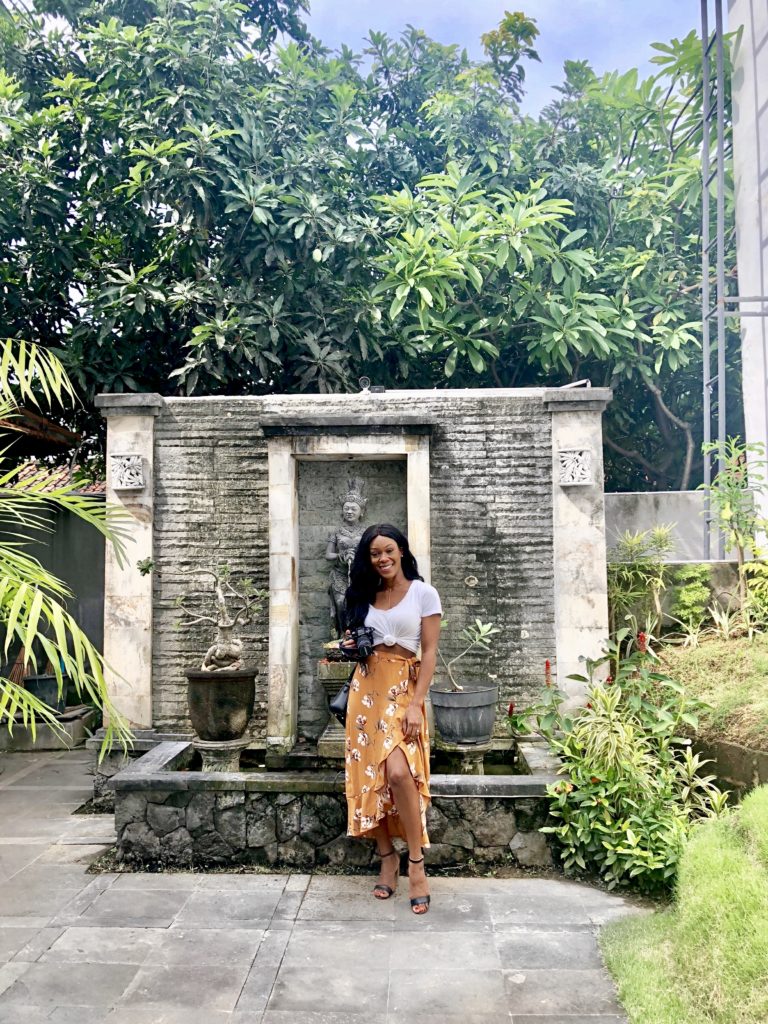 I slept in, woke up at 3 pm and went to explore. I visited Beachwalk (the mall). Beachwalk reminded me of a regular mall in the states; nothing special besides the fact that it's by the beach. They have Zara, H&M, TopShop, and Forever21. I had dinner at a nice restaurant; the drinks buy one get one free. The meal was delicious and cheap. My taxi driver waited for me in the parking lot and then after dinner, the driver dropped me off to the local market. I went for a walk; there were lots of bars and restaurants along the road.
My second day in Kuta: I headed to Ubud
I arranged for the same taxi driver to pick me up, as he was really nice and trustworthy. When I overpaid him, he came back and gave me the money. The ride to Ubud is about one hour from Kutu depending on traffic. It cost $25 but I later learned that if you download the Grap app which is the Uber app in Asia it costs half the price and you can pay the driver in cash or on the app, it's up to you. He took me to the Monkey Forest also known as the Sacred Monkey Forest of Padangtegal before heading to my hotel, which was about 8 minutes away. The monkey forest is located in Ubud Town Central, which within walking distance from most hotels and resorts. I got to feed the monkeys and watch them jump around. The forest itself is pretty amazing, with lots of beautiful ancient temples and statues with beautiful waterfalls.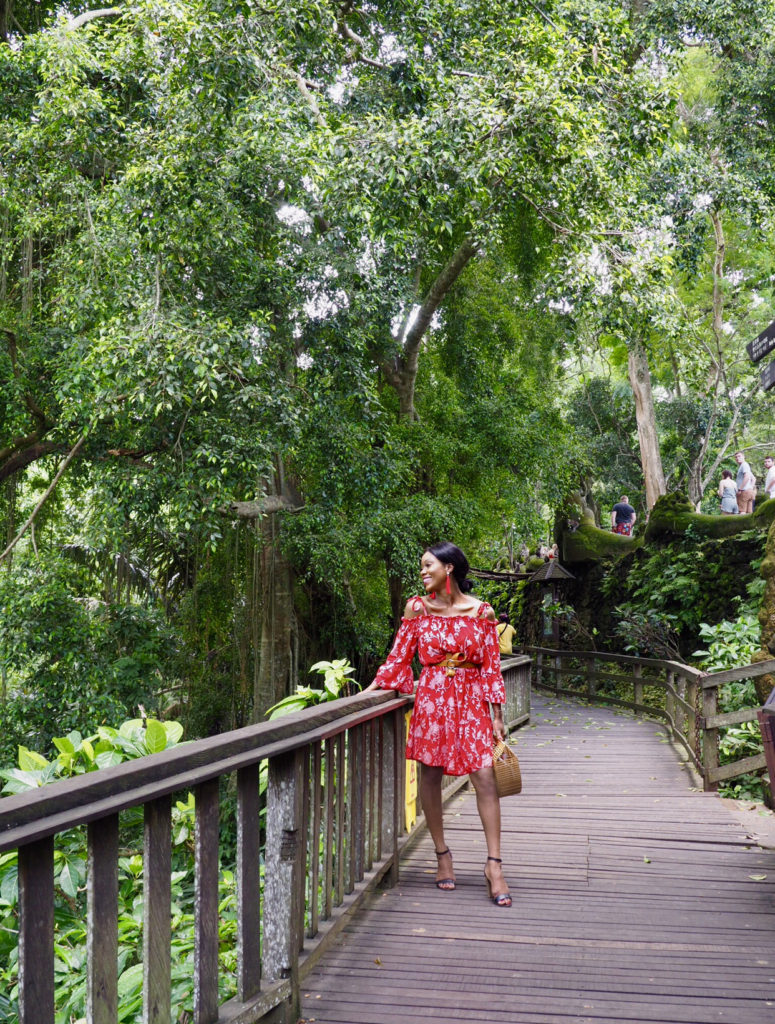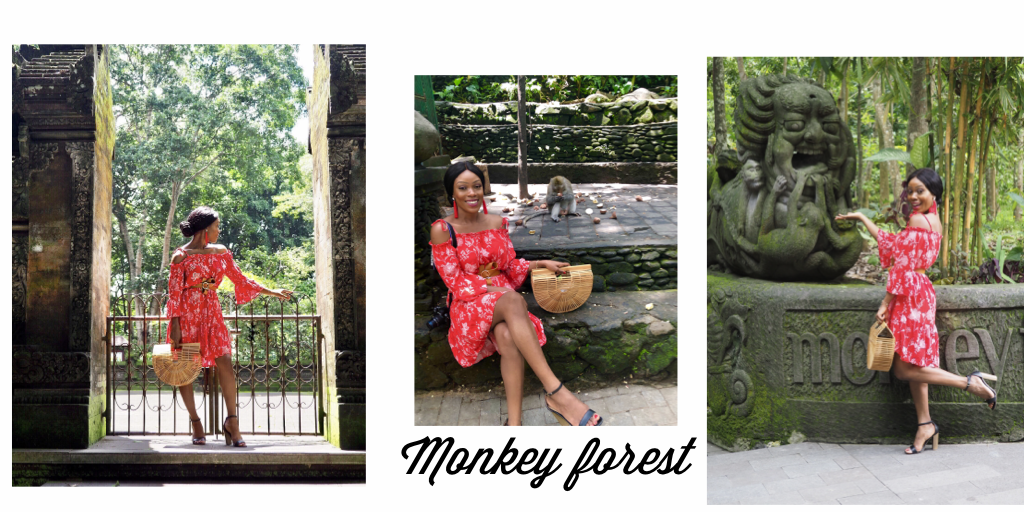 I stayed at the Kamandalu Resort and spa; it was very pricey but was worth it. They welcome you with a cold drink and a fruit basket. My Villa was beautiful, it had an outside shower and an incredible view of the rice field, which I loved. Some villas come with a private pool.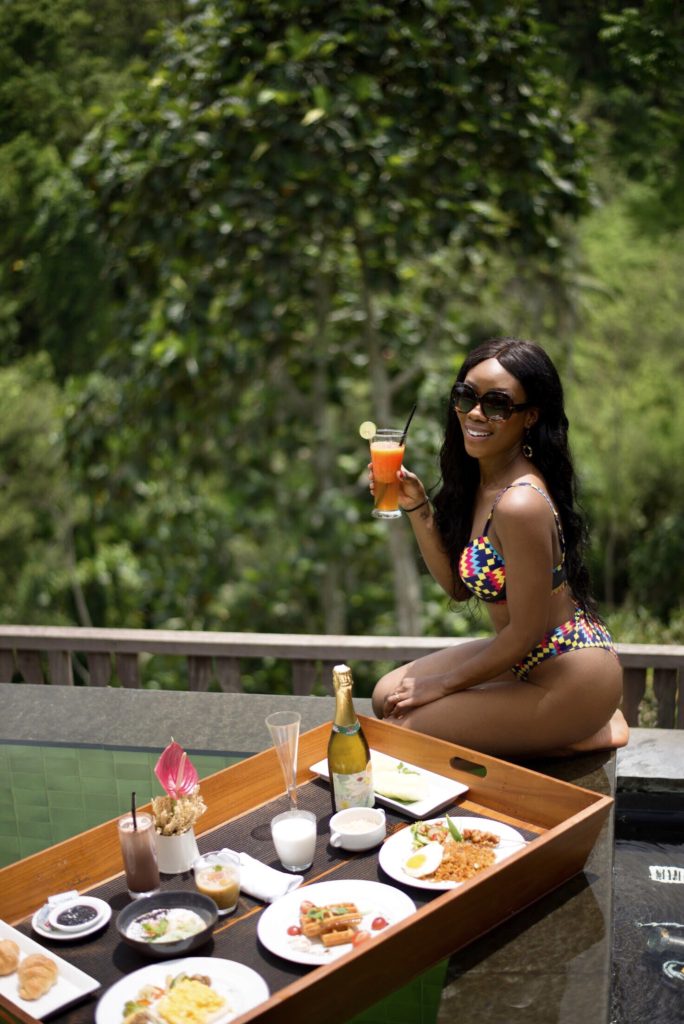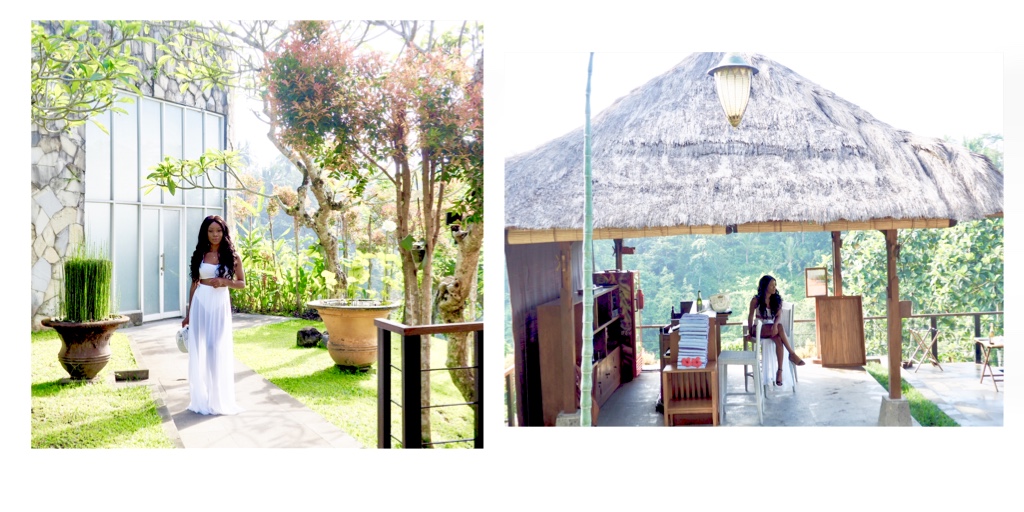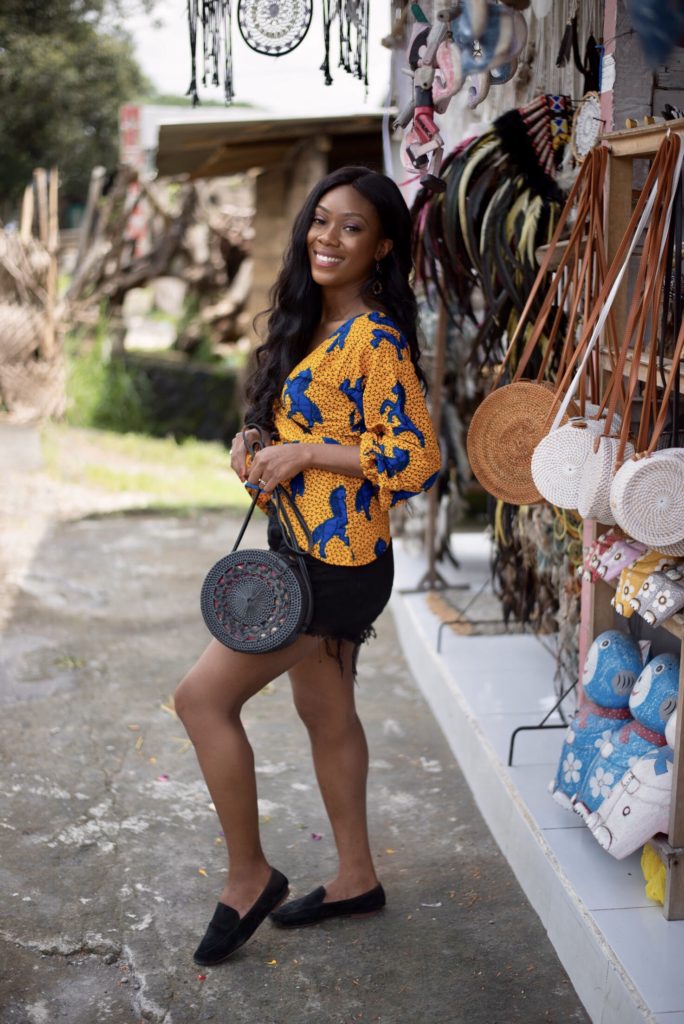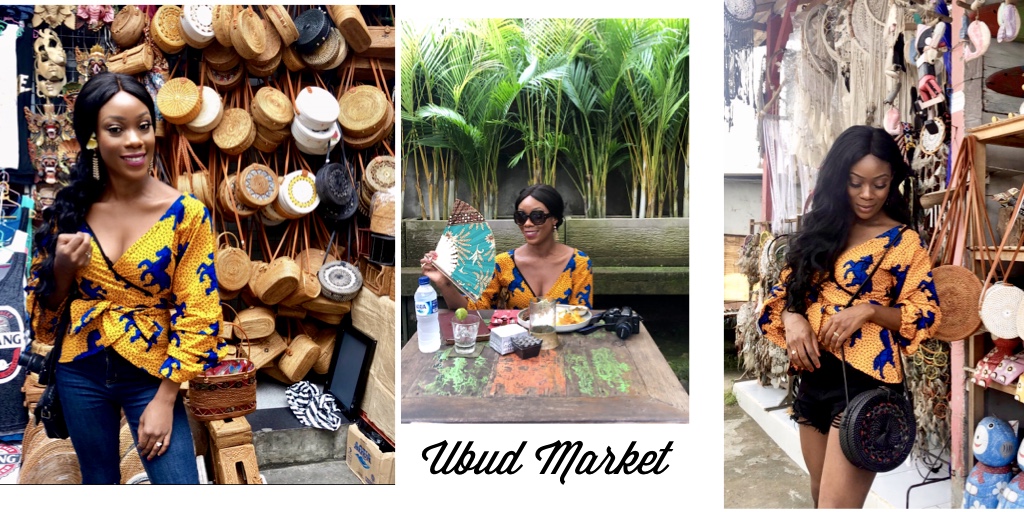 I spent the rest of my trip enjoying Bali, visiting temples, and walking through the rice field. Bathing under waterfalls, taking cooking and yoga classes, shopping at the local market, and of course, eating. I had the best coconut cheesecake! Check out my insta-story highlights if you haven't already.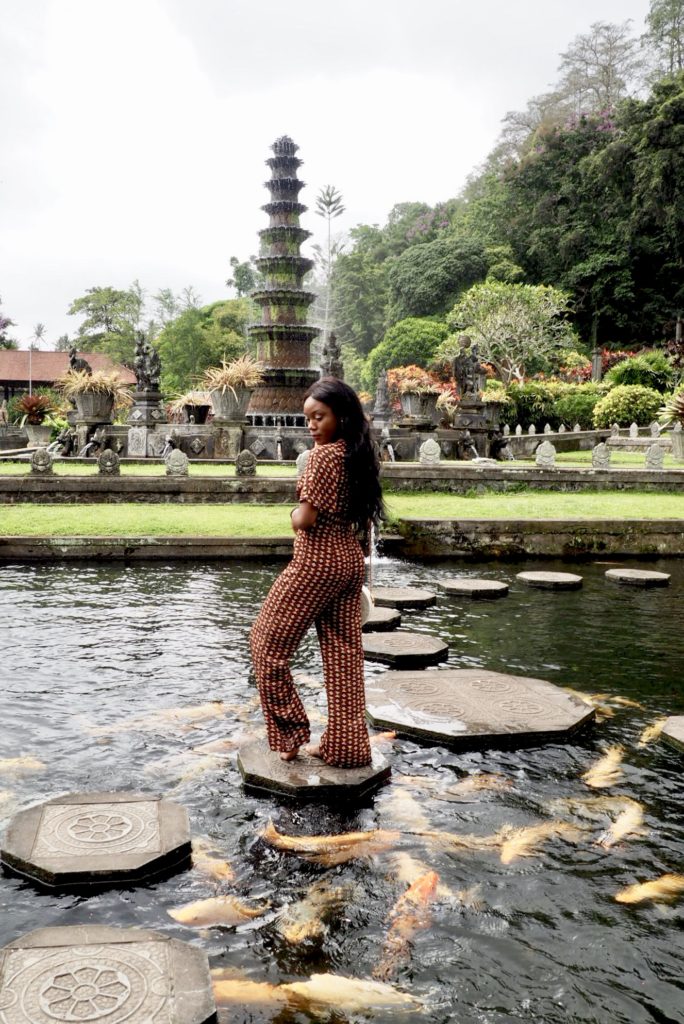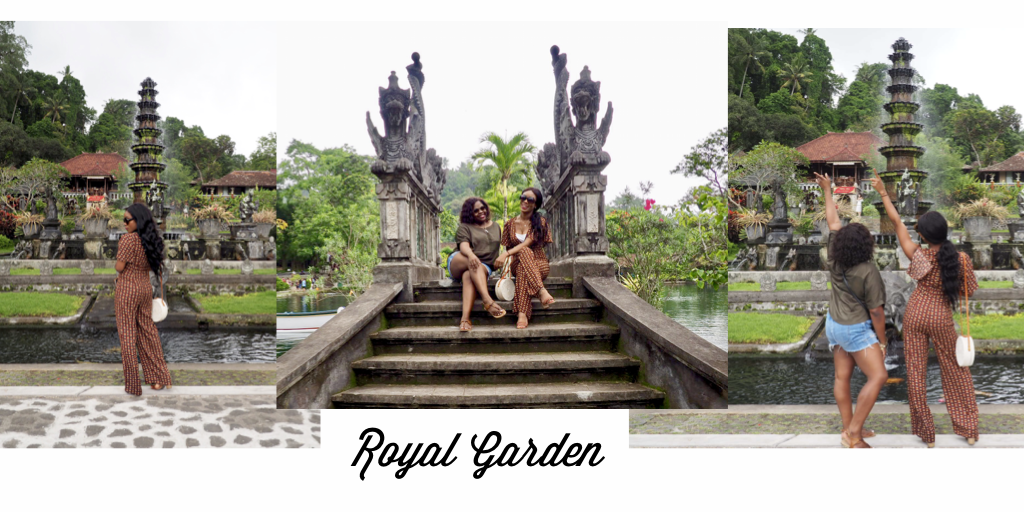 If you are thinking about visiting Bali – do it! I promise you will not be disappointed. There is something for everyone in Bali, whether you are a history junkie or enjoy lying on tropical beaches or just by the pool. Climbing Volcanoes, visiting temples or in need of yoga or taking a spiritual bath. I assure you that you will find something to do.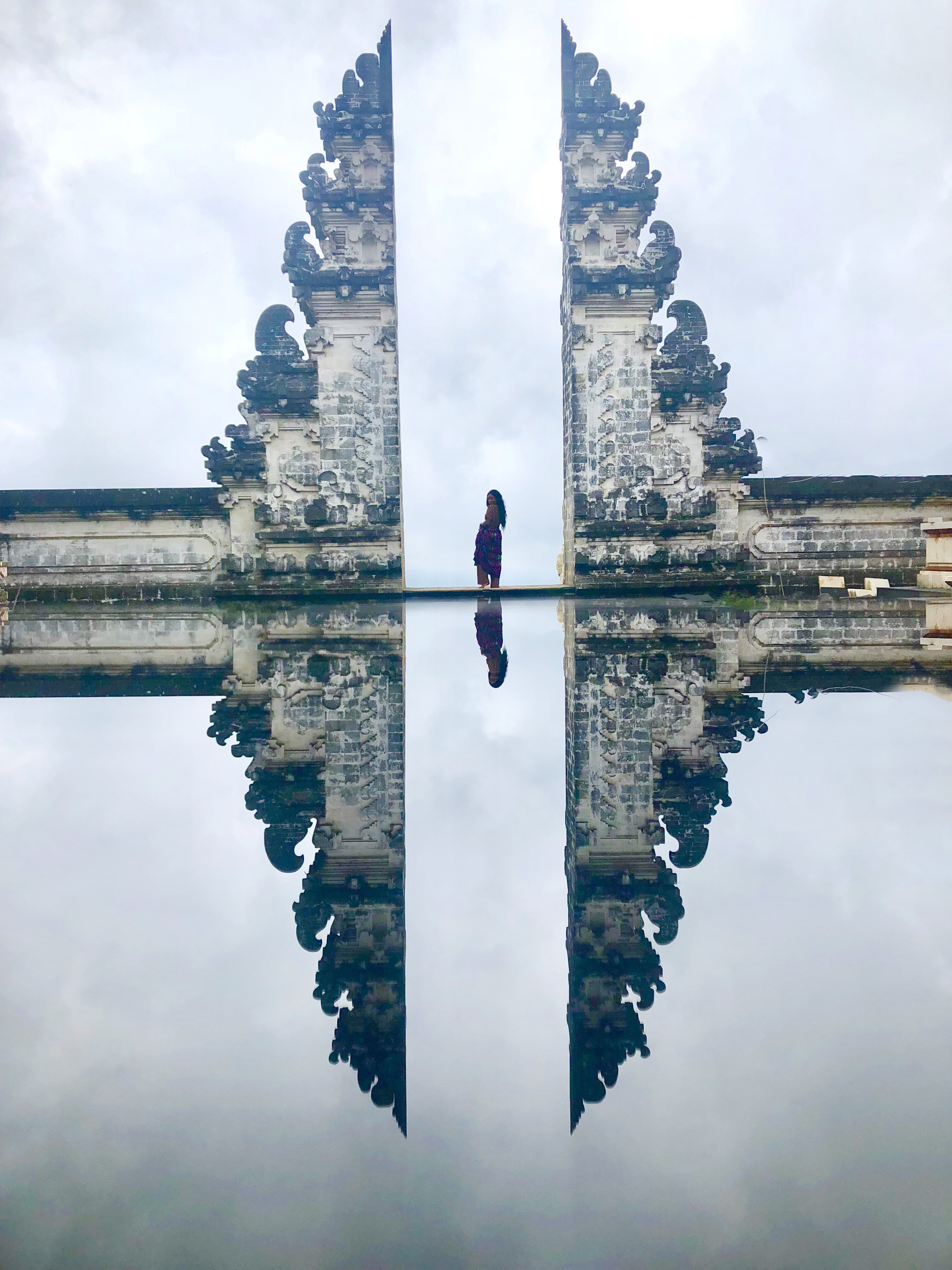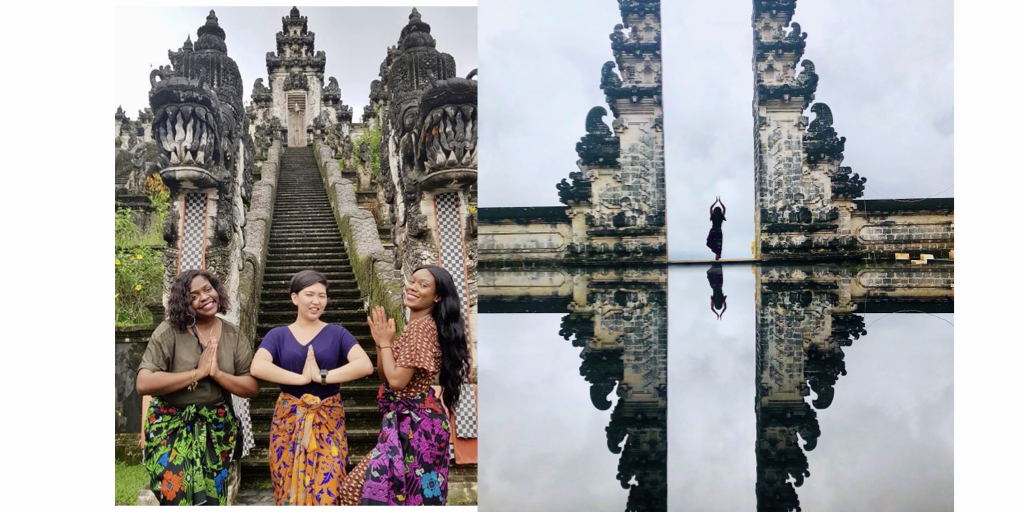 I have created a complete itinerary for Ubud,  (This is a 7 page PDF  you can print and take with you, everything you need to know is on it.)
It Includes:
•The best time to travel
•Where to eat
•Best hotels (luxury and mid-range) great locations
•Transportation with driver's numbers and prices
•Full list of activities and how to get there, along with their prices
•Local Photographers and their contact info
•The best time to visit certain sights to get the best photos and fewer crowds
Great tips on getting around
Shoot me an email if you're interested in PDF
Email: Emma@emmalynlove.com