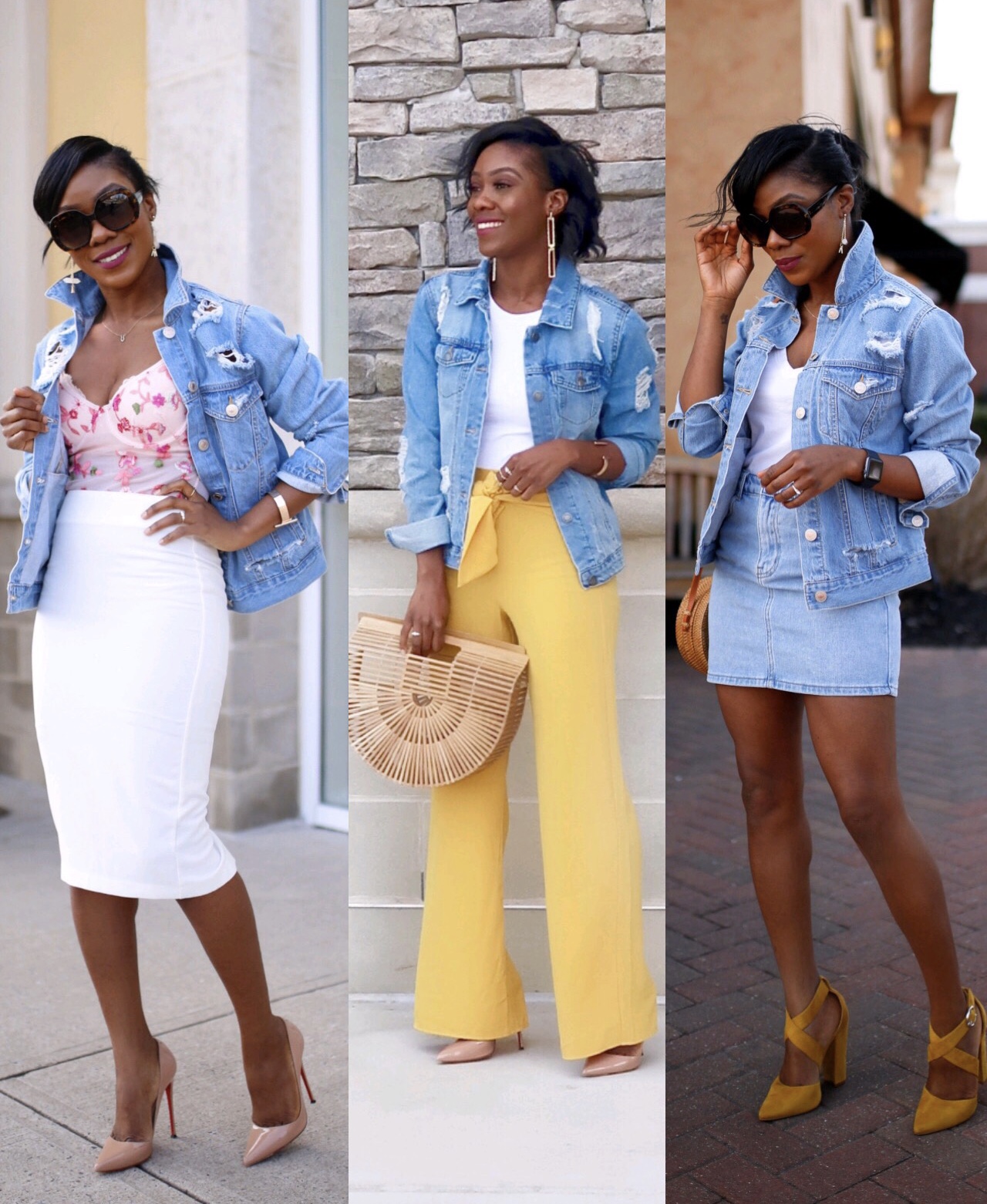 Most of us have likely owned a denim jacket at some point in our life. I know I did back in High School, what seems like many years ago. The funny thing is  I've never been into denim jackets, but all of a sudden I want to wear it all the time and I love how easy it is to style. This denim jacket has become my go-to jacket lately, I'm giving my blazers and motto jacket a well-needed break.
The denim jacket is a great wardrobe staple piece and it doesn't go out of style. If you have a good one you can wear it forever. Plus, you can wear it all year round. Denim jackets are great for chilly Spring and Summer nights, perfect for Autumn, and a versatile layering piece in Winter.
I'm going to share with you guys three ways that I styled mine for Spring and Summer.
Look 1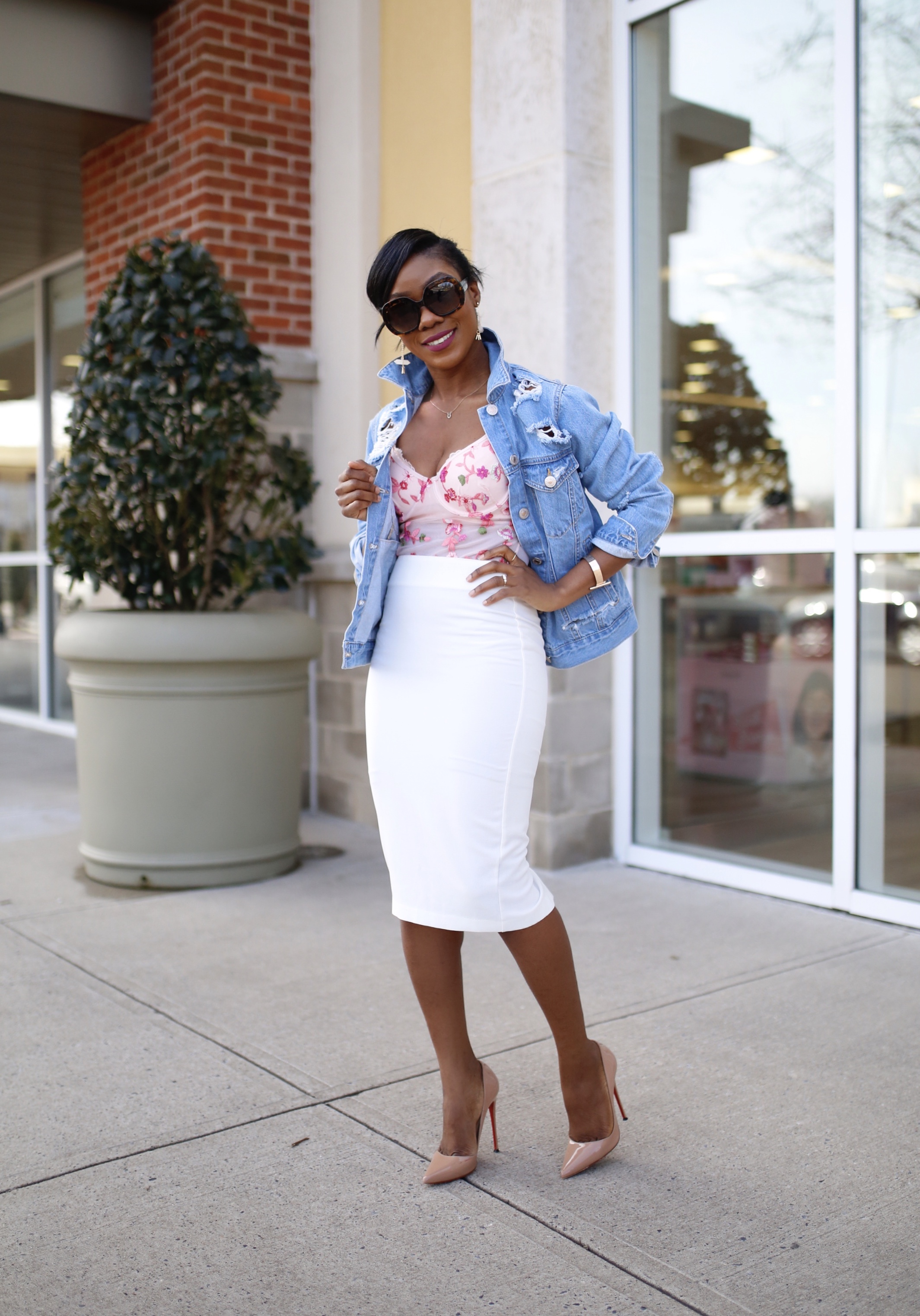 I paired my favorite denim jacket with a white pencil skirt, a pink lace bodysuit and my go-to nude heels.
I love how throwing a denim jacket over a dressy skirt can instantly change the look of the entire outfit. The contrast between the three pieces creates a casual, sexy yet put together look.
 Denim jacket | Bodysuit |Pencil Skirt |Sunglasses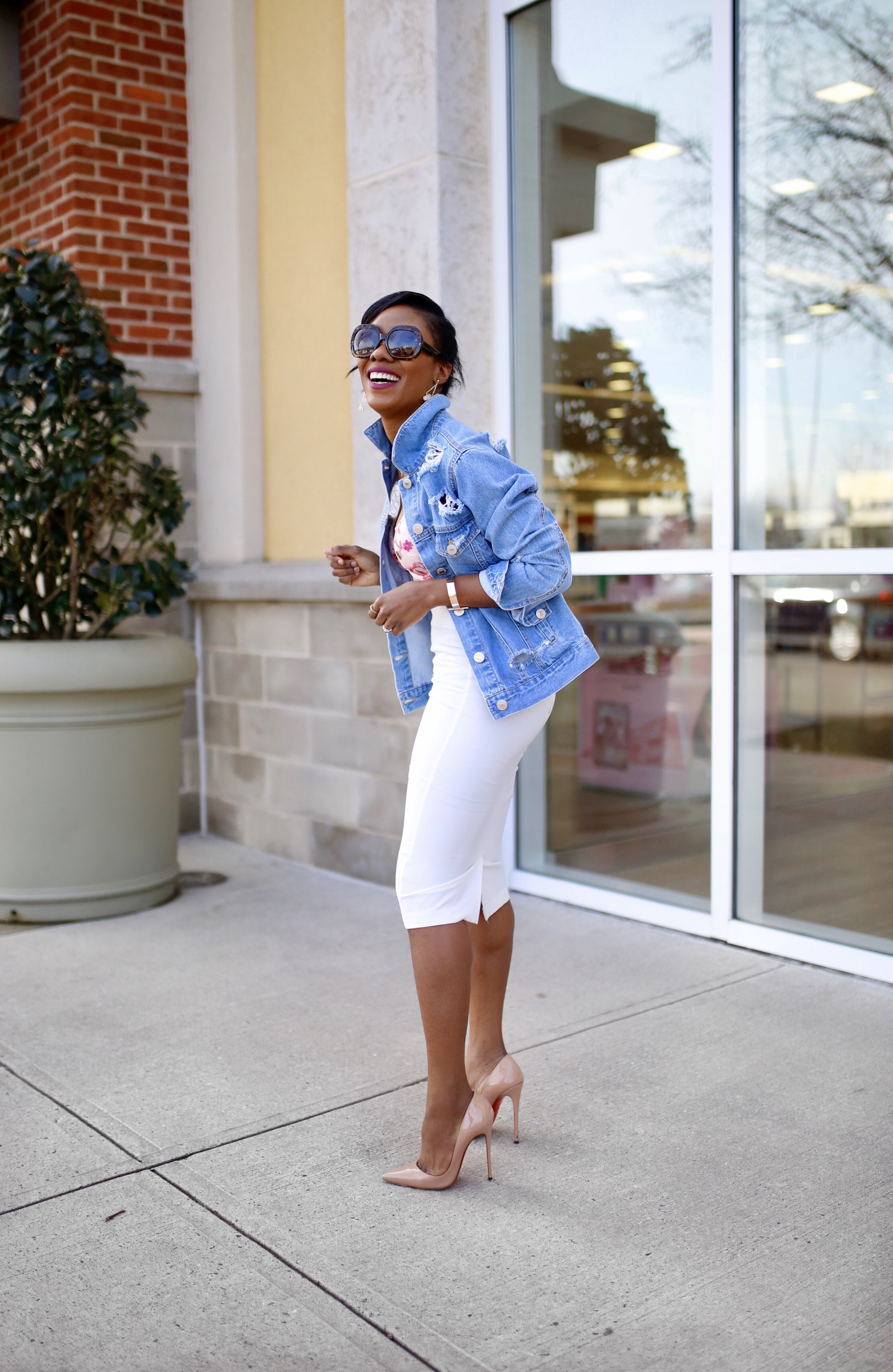 This outfit can be worn to work, parties or date night. I added the bodysuit for a sexier look which is great for a date night or just a night out on the town. For work, I would switch out the bodysuit with a cute work appropriate shirt.
Look 2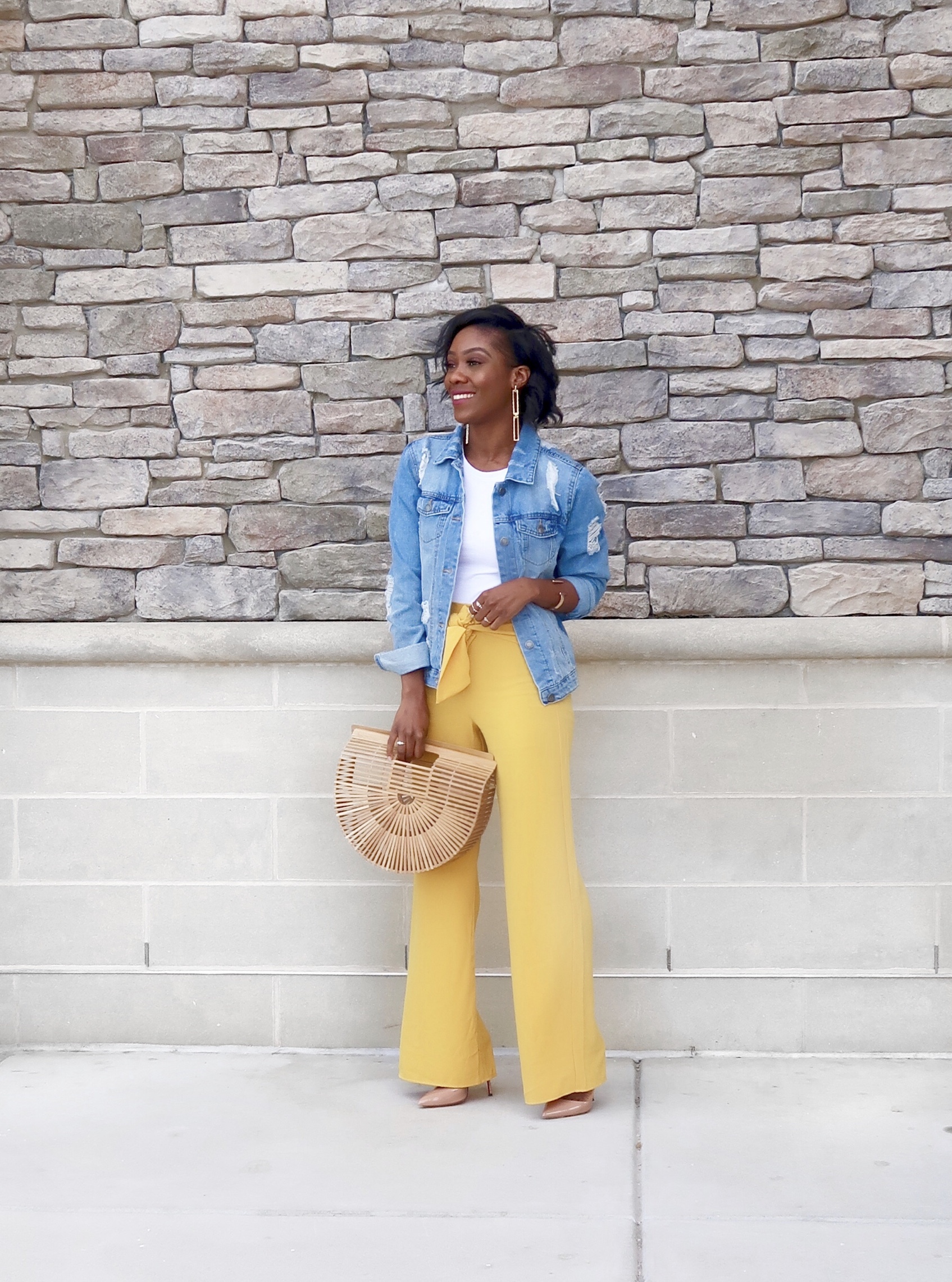 Jacket | T-shirt |  Pants | Heels | Snake-Skin Flats
I love how fun and bold this outfit is. I styled the denim jacket with a bright yellow pair of pants, a white t-shirt, and nude heels. The yellow-against-denim combination just pops.  This is another look that can be worn to work or a casual Spring/Summer outing.
Depending on the occasion, you can switch out the heels for a pair of flats.
Look 3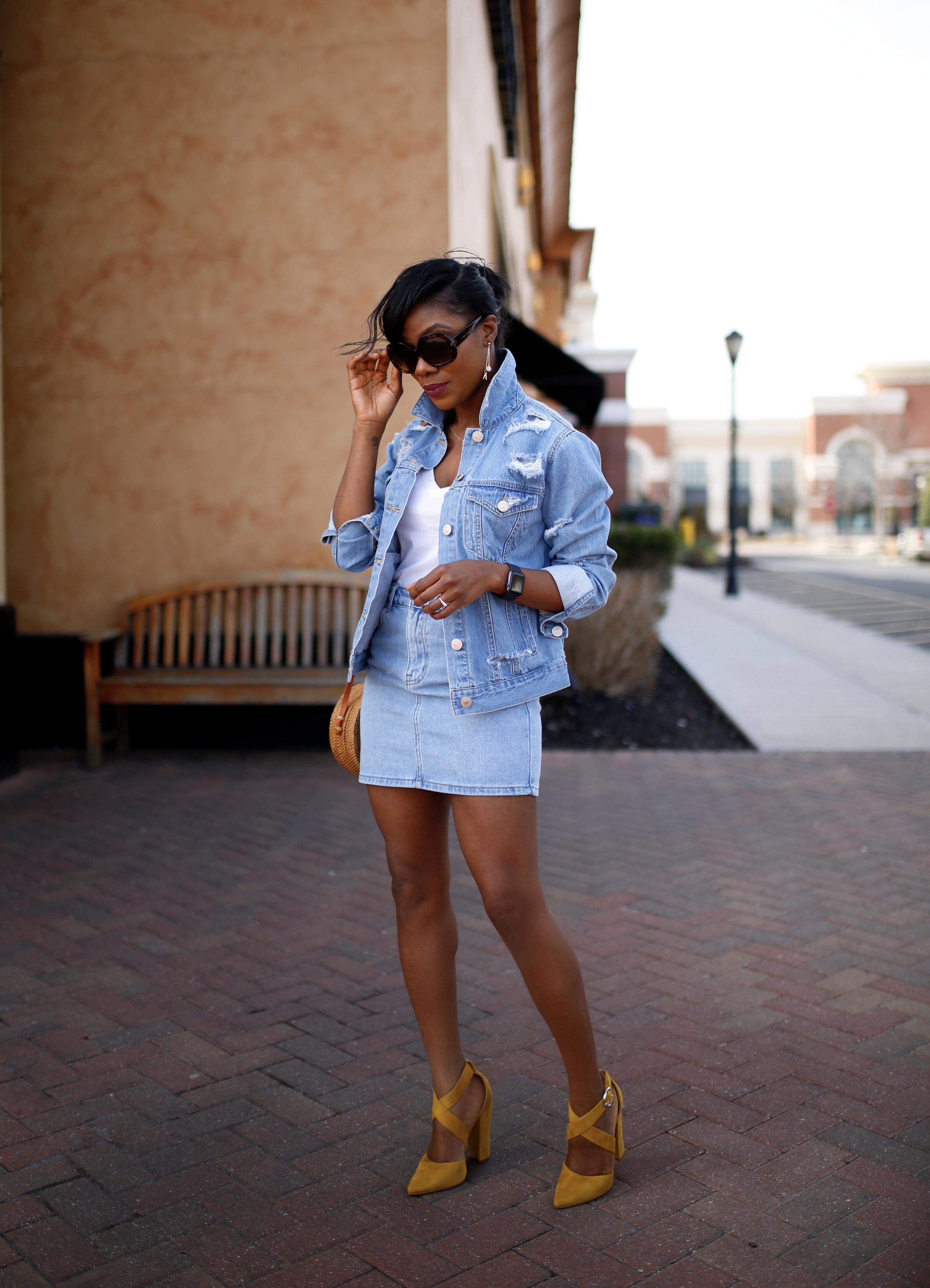 Lastly, we are going full denim-on-denim. You can never go wrong with this look, it's a classic. I styled this denim mini skirt with a white t-shirt and added the yellow heels for a pop of color. You might have noticed that I love the combination of yellow and denim for this season. If you're not a fan of heels, you can add a little statement piece like a pair of leopard or snake-skin print flats which are trending this Season.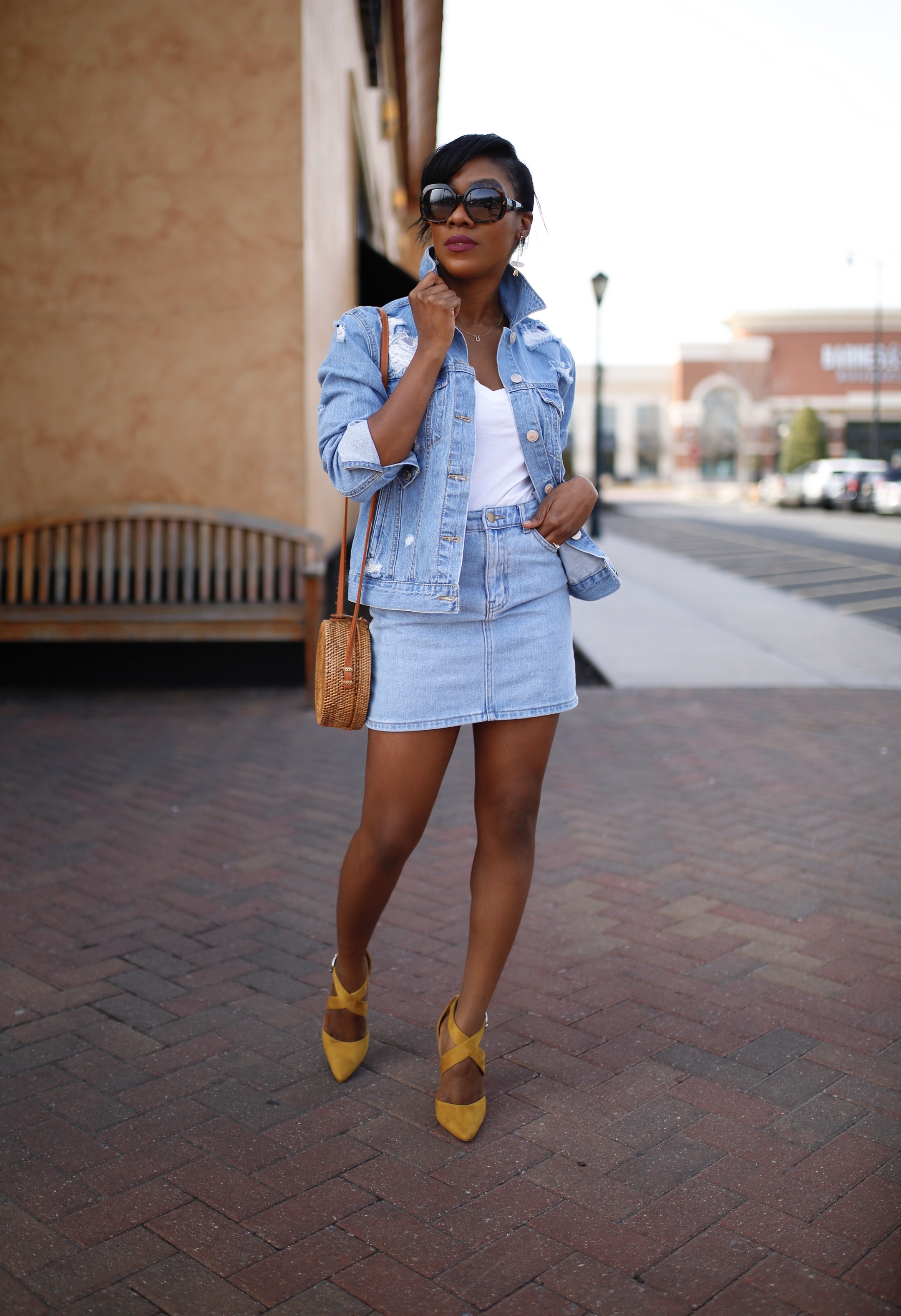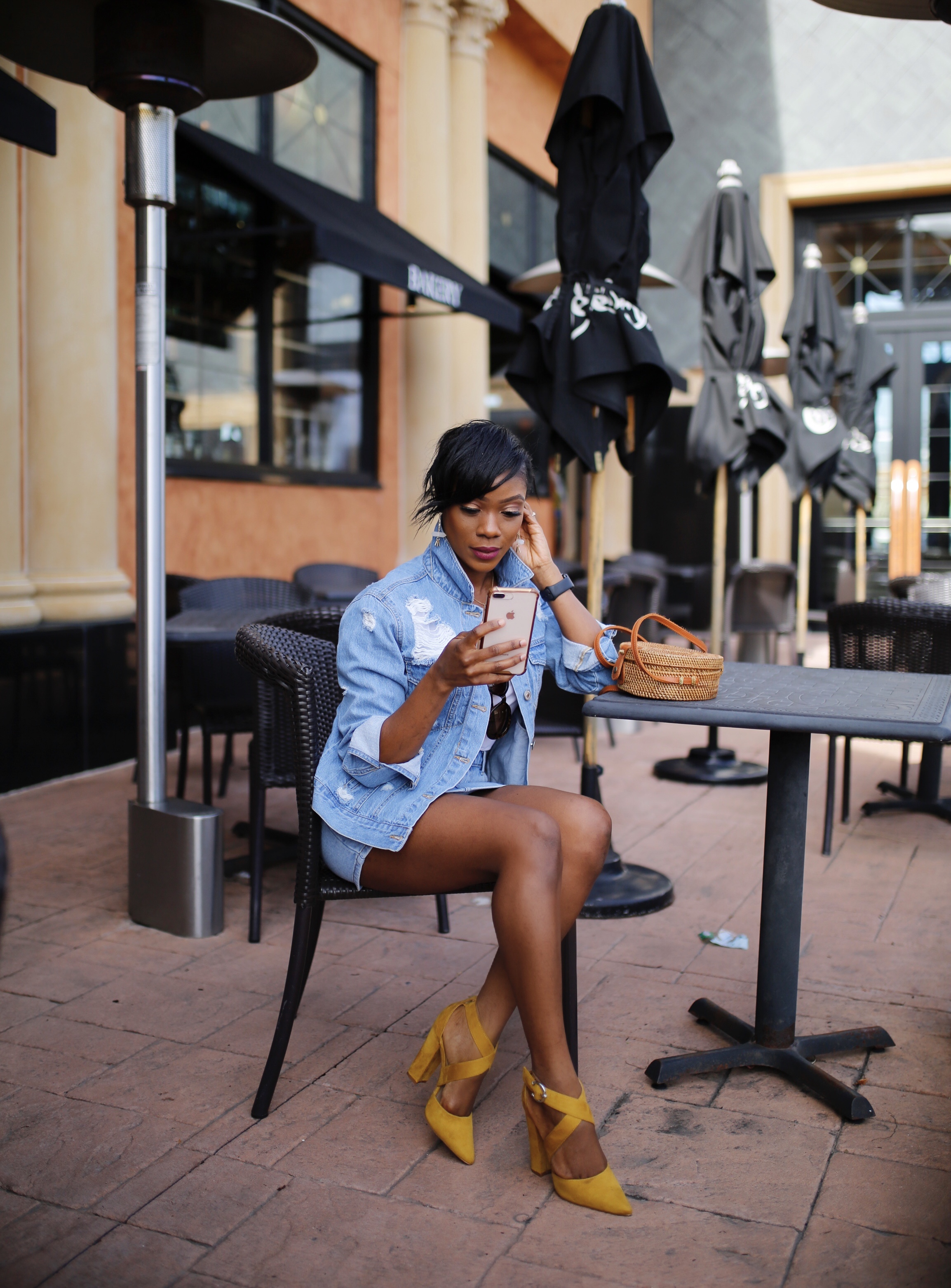 Denim Skirt | Yellow Heels |Denim Jacket  | Bag |Leopard Print Flats
The denim jacket is such a great wardrobe piece and you can style it in many great ways. Whether you choose a classic or distressed design, with embellishments, light or dark wash, you will find new and exciting ways to style it for outfits for many occasions. If you have a denim jacket that you have forgotten about in your closet, dig it out and give it a chance this season. If you don't already own one, what better time to make the investment and add this staple to your wardrobe?