So, I went shopping for clothes at Walmart. Yes, you read correctly, I said Walmart. I was on YouTube the other day and I saw a Walmart clothing try-on haul. I was amazed by the clothes from the haul.
I knew Walmart sell clothes but I  never pay much attention to them. I've bought clothes for my  four years old son (Ethan) from  Walmart before and I love them. One, they are super cute and two, they are affordable.  But for some reason, I never thought to look for clothes for myself. 
I'm all for looking good on a budget, and I love a  challenge so I decided to head to my local Walmart and see what I could find in the women's clothing department.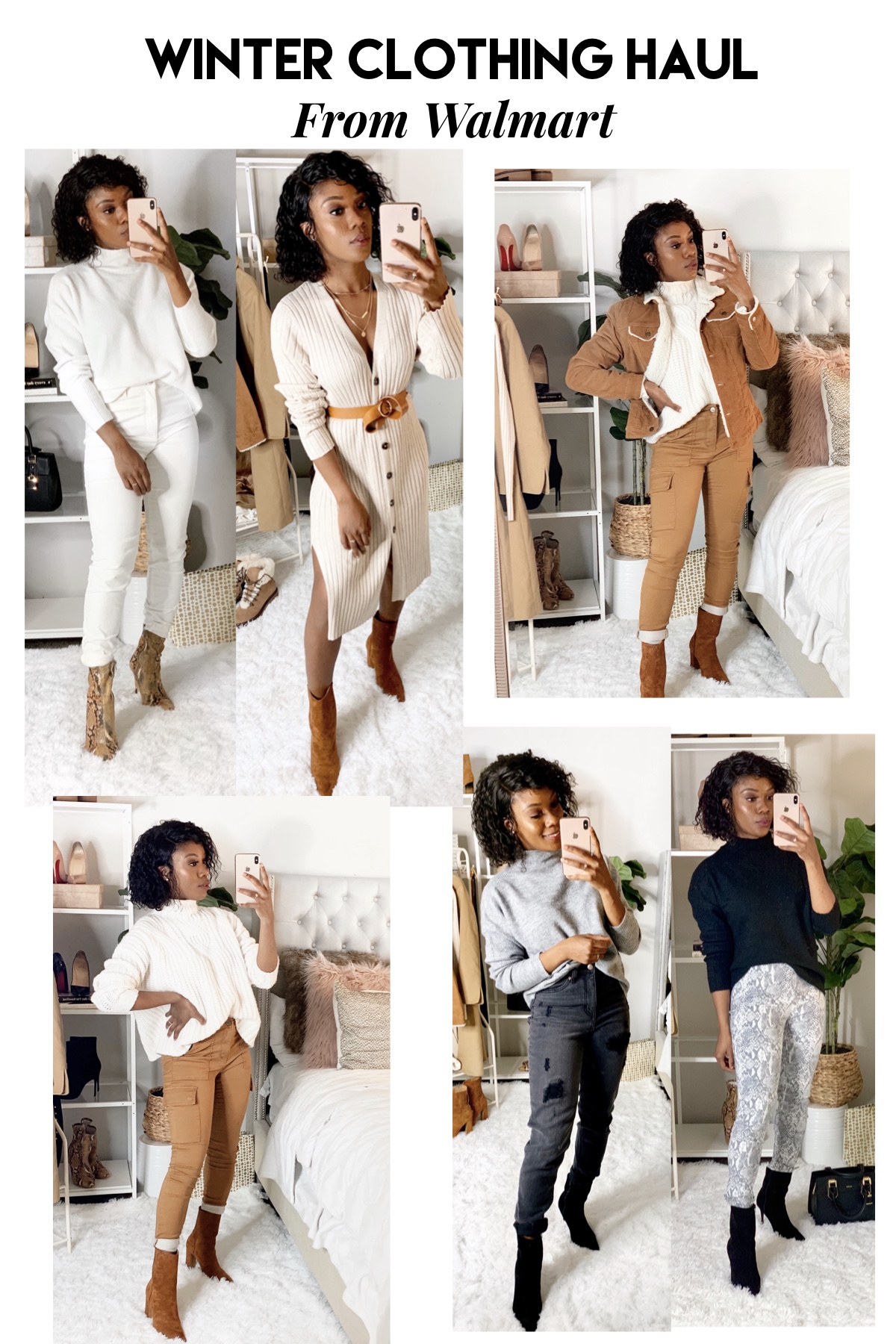 To be honest, I went into the store with very little expectations.  I didn't go in with a shopping cart. Why? I thought to myself, I won't need it. Oh, I needed it.  I found so many items that I like in the clothing department  I was shocked.
There were so many options for sweaters, jeans and leggings it was unbelievable. I've been looking for Fall and Winter basic and Walmart have tons of options.
Two of the Walmart clothing brand that I  am familiar with from Instagram are, Time and Tru and No  Boundaries so those were the two that I  gravitated towards.
All of the items I purchased from Walmart were under $30, the most expensive piece that I purchased was a $27  corduroy jacket and It's totally worth the price.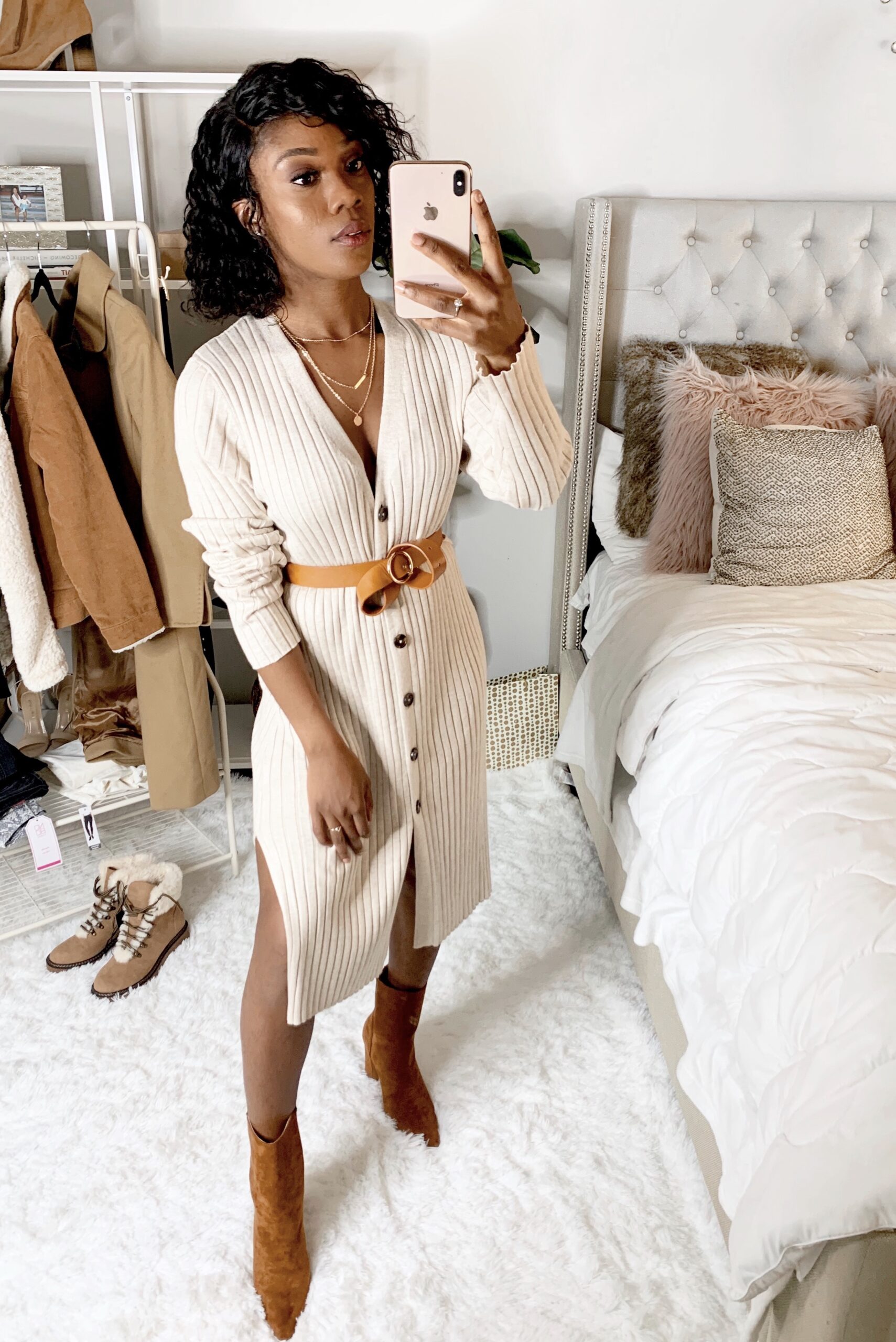 The first outfit is this Time and Tru women's long sleeves button-down cardigan.
This is by far one my favorite items I purchased. I brought it for $14 but it's sale online for $11. Get it here.
I love this cardigan, a lot of you who watched my IGTV on Instagram love it as well.
I thought this was a dress but later found out while on the Walmart website that its actually a cardigan, but I like wearing it as a dress. It came with a belt but I swipe it out and added my own belt.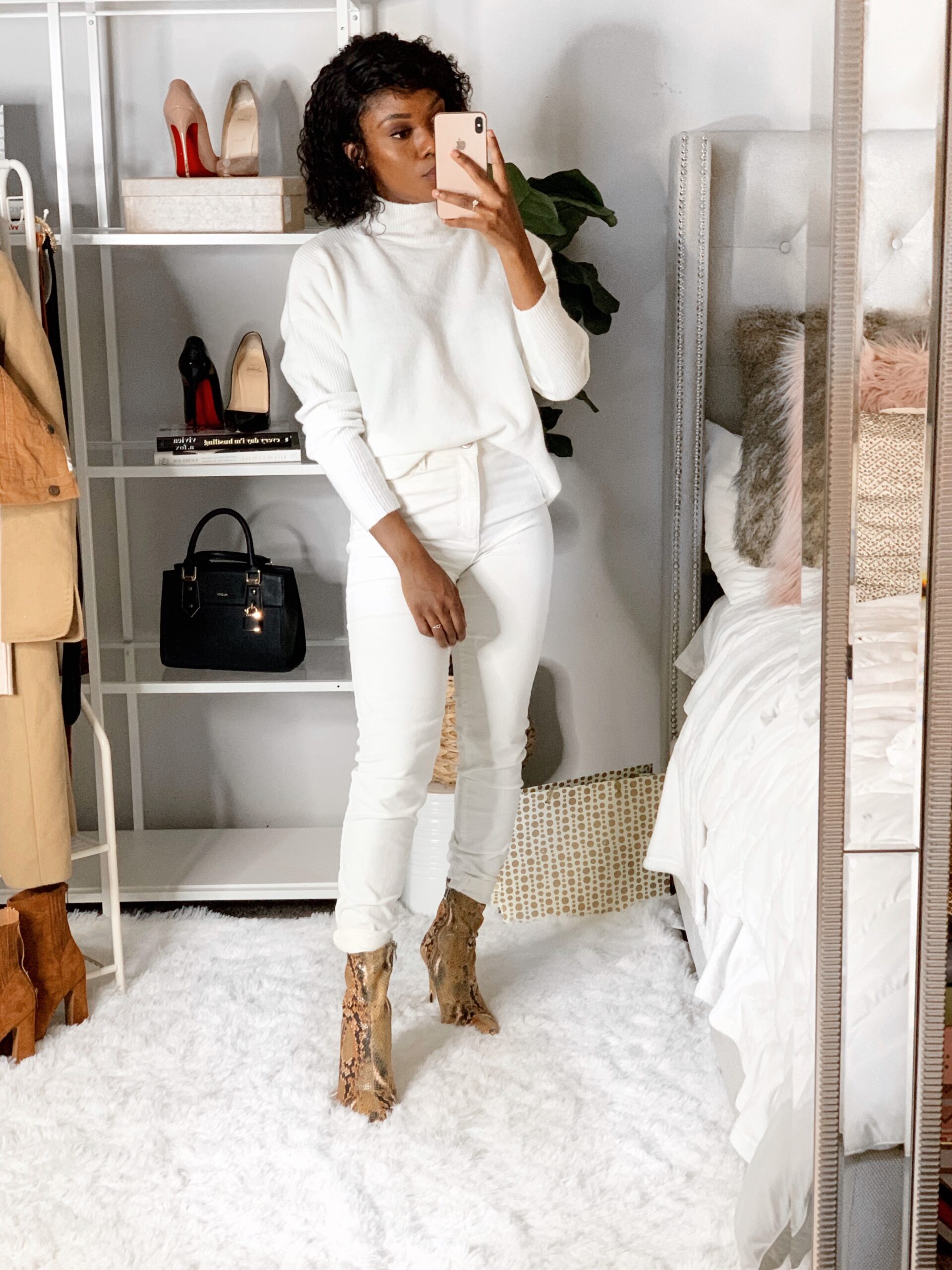 Shop The Look | Here
Another favorite is this Time and Tru Women's Drop Shoulder Mock Neck Pullover I paired with Time and Tru Women's High Rise Sculpted Corduroy Jegging. I love the fit of these pants, It's true to size, I'm wearing a size 4 but I wouldn't call it jeggings. It does not feel like Jegging material. 
The mock neck sweater is a must, it comes in 8 different colors, I brought four. Black, white, grey and Loiltia.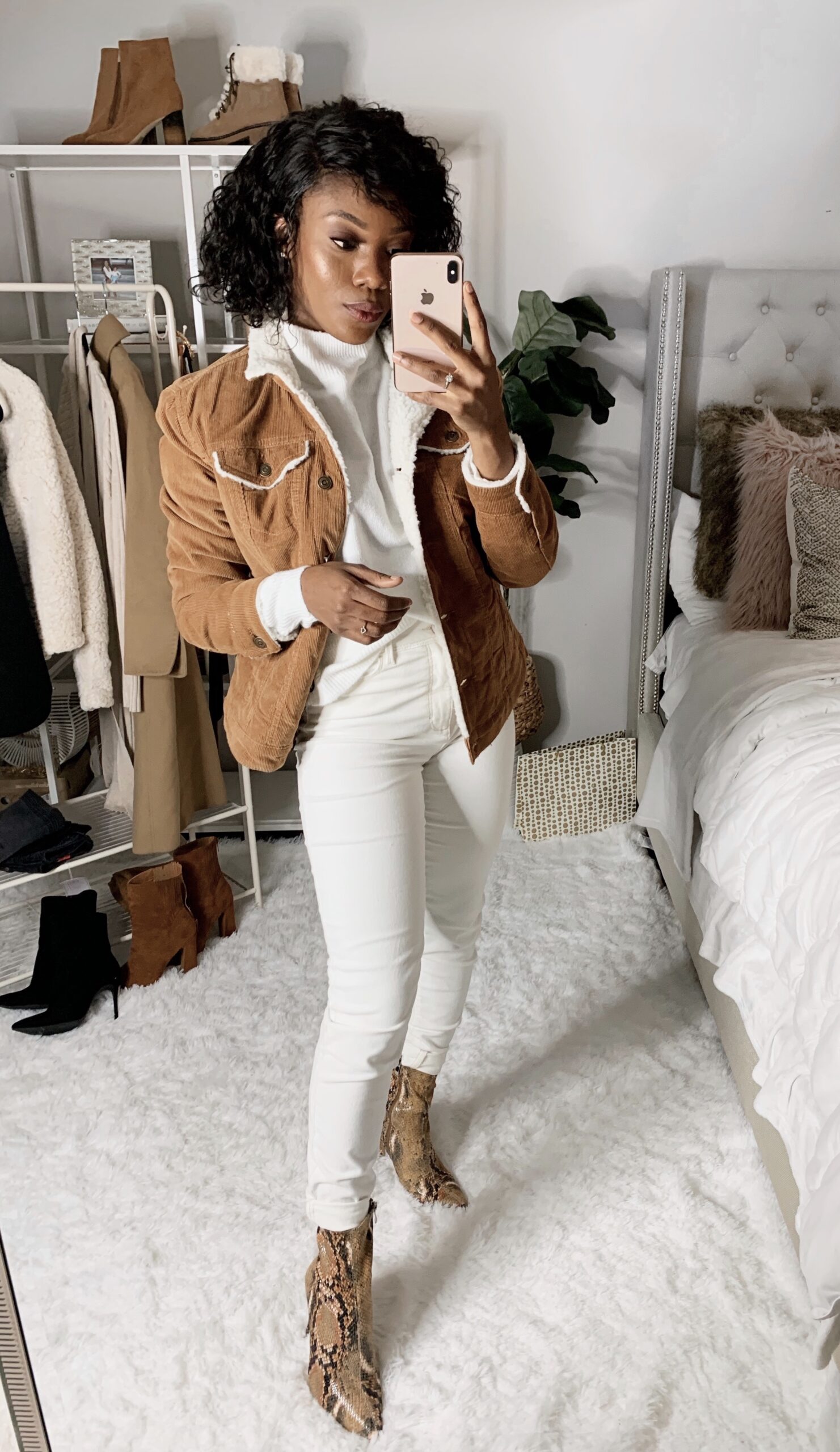 I finished the look with the  Time and Tru Women's Corduroy Jacket with Shearling Collar.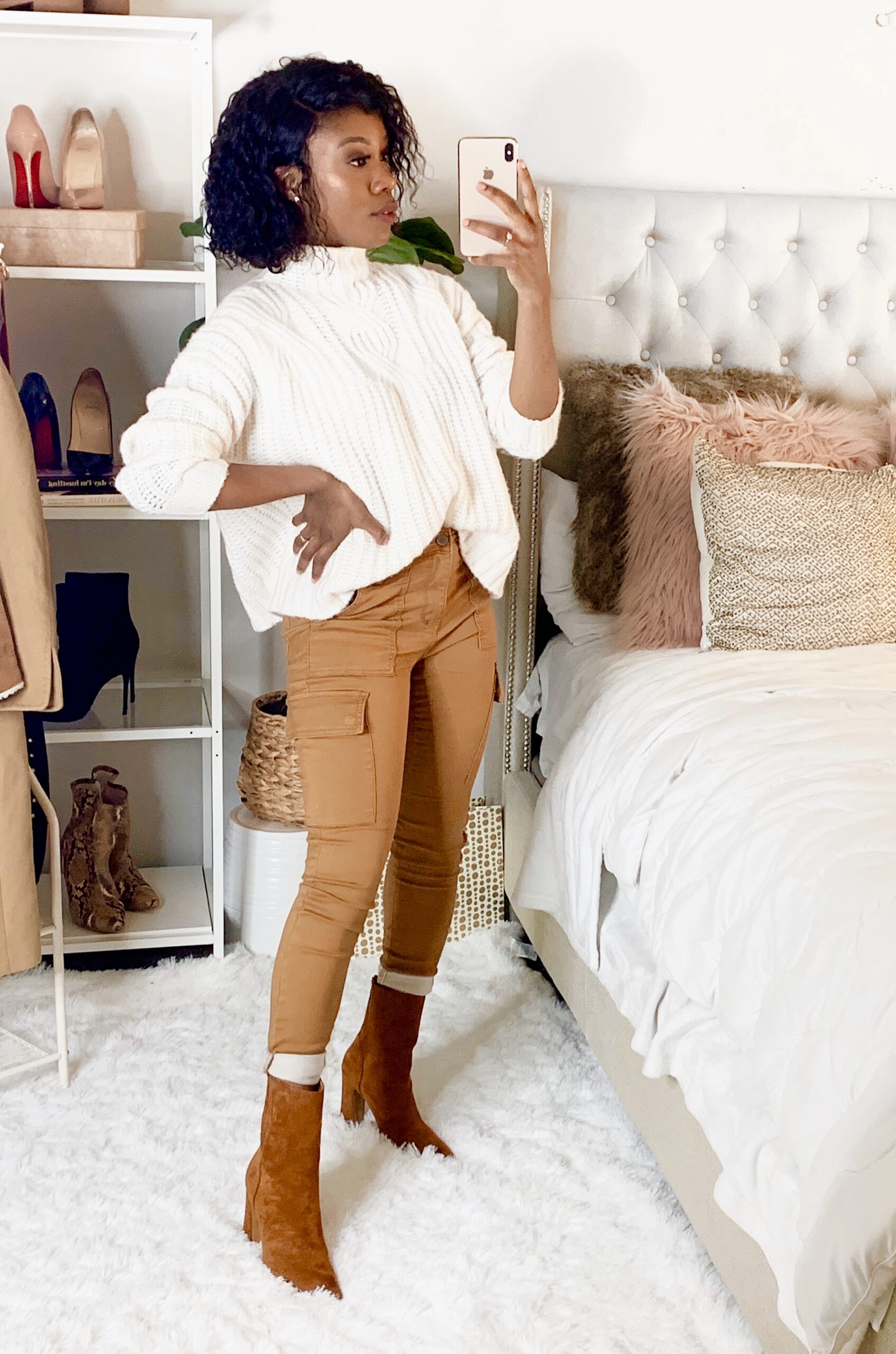 Time and Tru Women's Knit Skinny Cargo Pants  styled with a cream sweater, I am in love with these pants, it's soft, warm & it stretches. The fit is AMAZING.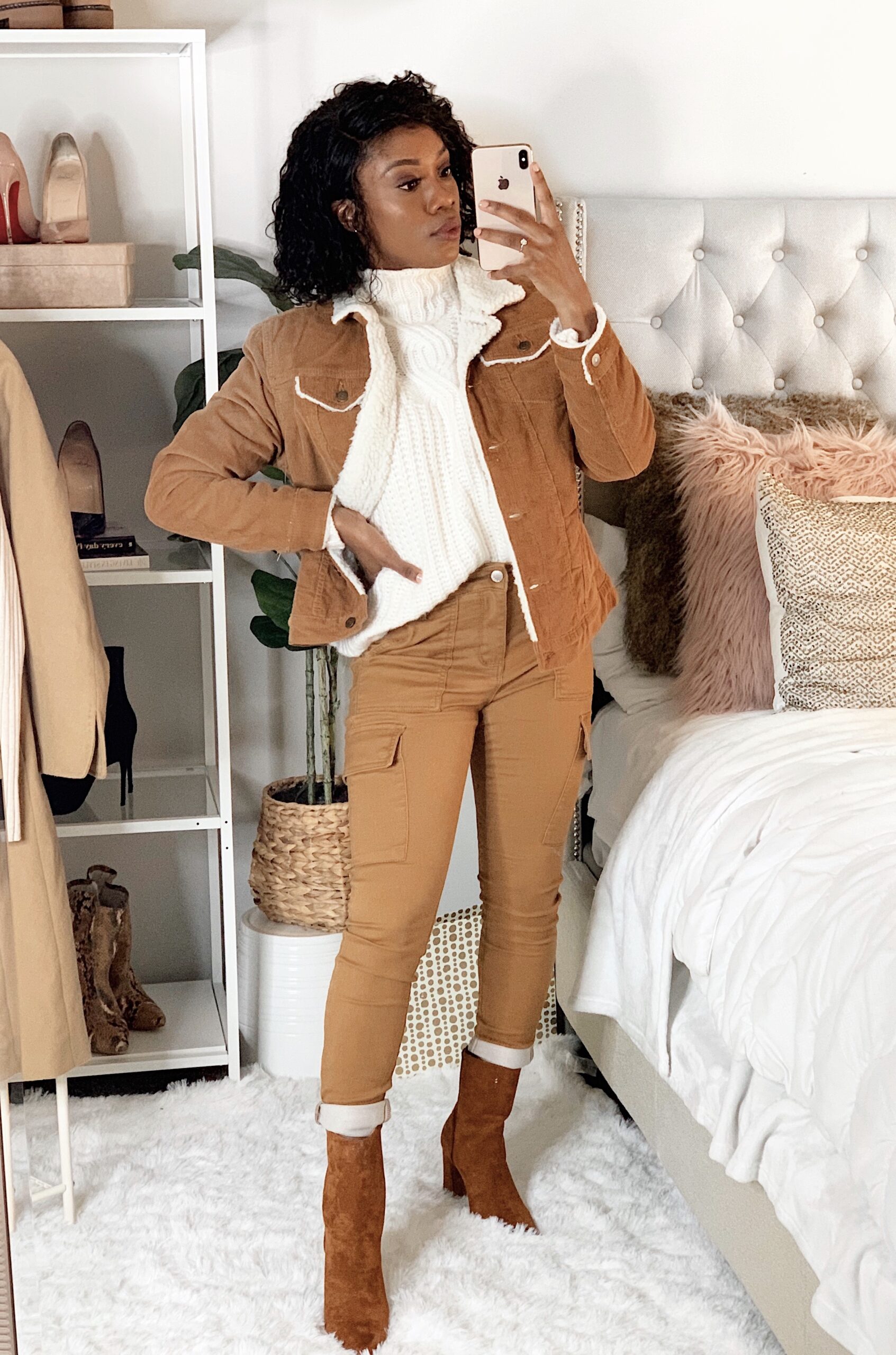 My bootie are not from Walmart but if you're interested I've linked it below.
Time & Tru dark washed high-rise mom jeans, paired with the same The mock neck sweater in grey. 
 Women's Full-Length Soft Knit Color Jegging Paired Jegging Paired with The mock neck sweater.
If you have already, check out my Instagram page I have an IGTV showing all the items.