Happy Wednesday!
It's been awhile since I did a blog post, I've  been a little busy. I attended the Liberian Entertainment Award in Washington D.C over the weekend, prepping for the award  took a lot of my time, I might do a blog post sometime this week about what the  LEA is (Liberian Entertainment Award ) and my experience, this was my first year attending.
I got back from D.C on Monday, I was extremely tired but didn't think much of it since I had busy weekend. Come Monday night I started feeling sick, I was in bed by 7:30pm woke up Tuesday with the worst headache in the world, I couldn't stand or walk, my head was spinning.  I took some  Excedrin and stayed in bed, when that did not work my husband ended up taking me to an  urgent care Tuesday evening. I got back from the urgent care took the meds that was prescribed  and felt much better. I went to sleep and woke up around 12am this morning with a really bad stomach pain, I have this sharp pain from stomach coming up into my  esophagus, I can't win ahh. Anyway I have  an appointment with my PCP on Thursday to figure out what's going on with me.  I had to drag myself out of bed this morning to do this blog post.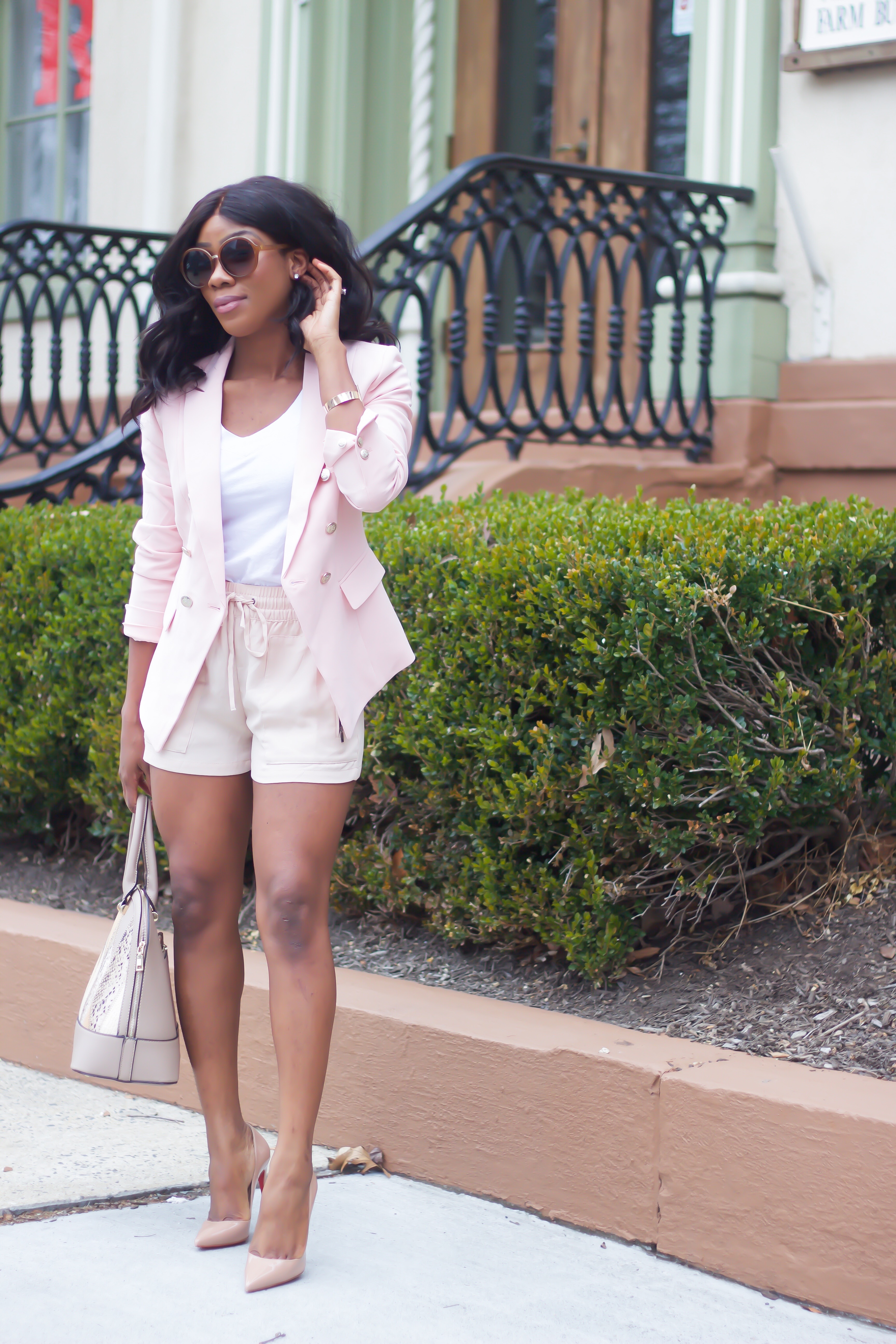 If you been following my blog for awhile now than you know I'm obsessed with blazers, in a pervious post I talked about how I  a blazer collect and I can't help myself whenever I see a well tailored blazer I have to buy it. I couldn't resist buy this pink one, when I saw it in White House Black Market it was love it first sight, isn't it beautiful??  The color is perfect for Spring and the fit is amazing. I never regret buying blazers because they are very  versatile and I get a lot wear out of them.
 Blazer |White Tee |Shorts (old) Similar | Shoes |Sunglasses (sold out)Alternative