Summer is almost over and the weather's about to get colder. Although it is about time that we revamp our wardrobe for the fall, the temperature isn't cold enough for layers yet. Today, I'm sharing some of my all-time favorite cute and classy summer shorts outfits to stay cool while you wait for that autumn breeze.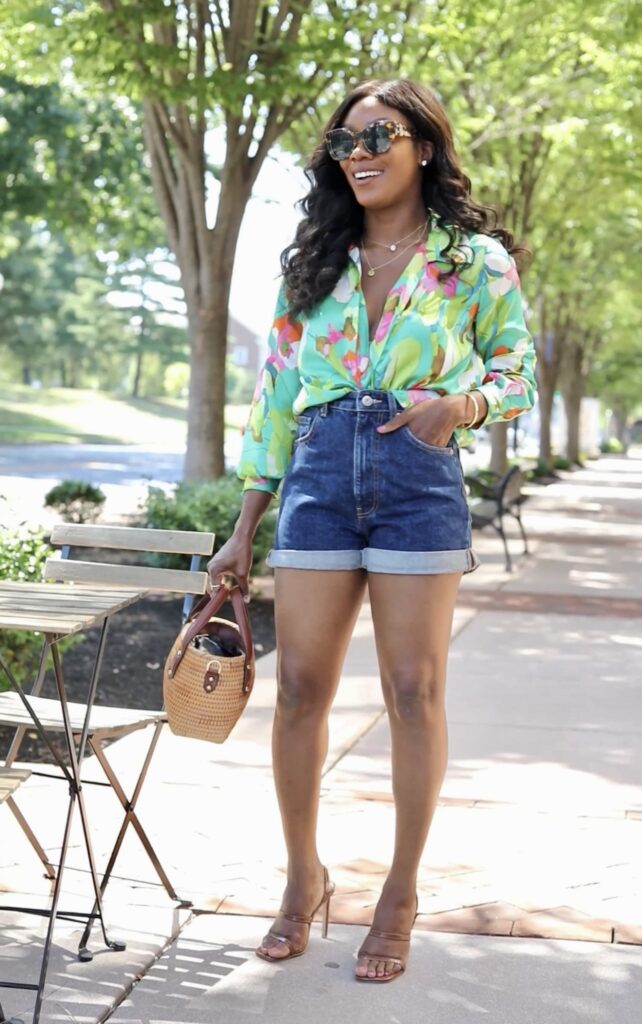 First and foremost, shorts are my ultimate summer essential because they offer unrivaled comfort and versatility. When the heat is on, there's nothing worse than feeling stuffy and restricted in tight-fitting jeans or long trousers. With shorts, I feel so much more liberated, and that's precisely what summer fashion should be all about – being able to move freely and enjoy the sunny days to the fullest!
Whether you're planning a much-awaited beach vacation, attending lively outdoor events, or simply exploring the bustling streets of the city to catch up on that summer fun, these shorts styles are perfect for all of us! I've tried and tested these outfits, and they never fail to make me feel confident, breezy, and fabulous. That's exactly what I want for you too!

Now, I know that embracing shorts might feel a little daunting for some. We all have different body shapes, and it's natural to have some reservations. But believe me when I say that there's a perfect pair of shorts for every body type! So, if you're ready to rock those short outfits this summer, I'm here to guide you through the wonderful world of chic and stylish looks.
Effortless Elegance: Crop Top and Denim Cutoffs
When it comes to staying stylish without breaking a sweat, my go-to look is pairing a cute crop top with classic denim cutoffs.

It's a combo that never goes out of style and is perfect for those really hot days. This outfit is the ultimate choice for various summer activities – from beach fun to meeting friends for lunch. I usually complete the look with comfy white sneakers or flat sandals, and voilà! I'm ready for any casual summer adventure that comes my way.
Casual Yet Chic: White Shirt and Linen Shorts
If there's one piece that's a true summer staple, it's the white shirt! And guess what? I love to pair it with breezy linen shorts for a casual yet chic outfit. It's an effortless combo that keeps me looking fabulous without trying too hard.
Oh, and the best part is, you can add a pop of color with some fun accessories or a pair of statement sandals to complete the look. Trust me, it's the perfect outfit for easy-breezy summer days!

Stylish Polo Shirt and Chino Shorts
For those times when I want to elevate my daytime look or attend outdoor events, I turn to my trusty stylish polo shirt and chino shorts combo. This ensemble exudes a classic and polished summer vibe that I absolutely adore! To add a touch of sophistication, I usually opt for high-waisted shorts that elongate my legs and add a dose of chicness to the entire outfit. It's my go-to choice for a dressier yet relaxed look that never disappoints.

Stripe Alert: Striped Top and Black Denim Shorts
When I'm in a rush but still want to look effortlessly put together, you know what's my obvious choice? A classic striped outfit! Pairing a striped top with black denim shorts is a timeless combo that works wonders every time. The black shorts are an excellent canvas for time-tested striped patterns.

​​I love how versatile this look is; I can wear it from day to night without any fuss. If I'm heading out for a date night, I simply throw on a blazer to dress it up, or if it's a casual day out, a cute pair of flat sandals does the trick. It's my fail-proof chic summer outfit!
Effortless and Versatile: Bathing Suit and High-Waist Shorts
Let's talk about my ultimate summer wardrobe staple – a bright-colored bathing suit paired with high-waist shorts.

​​ This combo allows me to play with different accessories and create various looks. Whether I'm running errands or a quick beach getaway, this outfit keeps me looking stylish all day long. Believe me, it's the perfect pair to conquer those summer days with ease!
Athleisure Chic: Tank Top and Cycling Shorts
Who says style and comfort can't go hand in hand? One of my trendy and go-to summer looks is pairing a tank top with cycling shorts. It's the ultimate athleisure chic combo that never disappoints. Whether I'm out shopping or enjoying a relaxed weekend brunch, this outfit idea keeps me feeling cool and looking fab!
If I want to dress it up a bit, I throw on a cute pair of sneakers, or if I want to keep it super casual, flip-flops do the trick. This look is all about embracing the easygoing side of fashion.

Boho Chic Breeze: Flowy Blouse and Frayed Denim Shorts
Ladies, it's time to unleash our inner bohemian spirits and ride that boho chic breeze! Get ready to rock that effortlessly free-spirited vibe with a loose and flowy blouse paired with frayed denim shorts.
Opt for earthy tones and tribal patterns to embrace that bohemian charm. Oh, and let's not forget our wide-brimmed hat, layered necklaces, and suede ankle boots to complete the look. Can you feel that boho breeze yet?

Are you dreaming of a tropical adventure? I know I am! Picture yourself in a vibrant and printed button-down shirt, ready to explore palm-fringed beaches and exotic locales.
Match it with comfy and classy Bermuda shorts that hit just above the knee for a dash of vacation-ready style. Slide into some laid-back slide sandals, grab a straw tote bag, and slip on a pair of cool sunglasses – you're now the epitome of tropical vibes!

Effortlessly Chic: Wrap Top and Linen Shorts
Ladies, let's master the art of easy-breezy chic! Grab a flattering wrap top that embraces your figure and adds an elegant touch to your summer look.
Pair it with lightweight linen light blue shorts for maximum comfort and sophistication. I'm talking dainty jewelry, stylish slip-on espadrilles, and a wide-brimmed hat – oh yes, we're rocking that effortlessly chic summer vibe!

City Explorer: Oversized Blazers and Tailored Shorts
Ready to conquer the city streets with flair and confidence? Oh, you bet! Combine tailored shorts with an oversized blazer for that perfect blend of casual and smart.
Pick a bright-colored blazer and bold-patterned shorts to create a statement. Complete the look with sleek sneakers and a trusty crossbody bag – and you've got that city explorer style nailed!

Fun in the Sun: Tie-Front Crop Top and Patterned Shorts
Ladies, it's time to have some serious fun in the sun! Picture yourself in a playful tie-front crop top – cute and oh-so-comfortable. Pair it with patterned pink shorts that scream summer vibes and match the season's spirit. Don't forget those colorful bangles, oversized sunglasses, and strappy sandals – it's time to shine in our fun-in-the-sun ensemble!

Garden Party Glam: Ruffled Blouse and High-Waisted Shorts
Garden parties, here we come, looking like the epitome of elegance and charm! Slip into a ruffled blouse that adds that feminine touch, and pair it with high-waisted pair of denim shorts in a matching or contrasting color for that seamless and chic garden party glam.

Oh, but we're not done yet – add some statement heels, delicate jewelry, and a fabulous clutch, and we're all set to dazzle at that glamorous garden affair!

Street Style Maven: Graphic Tee and High-Waisted Denim Shorts
Ready to unleash the street-style maven within you? Time to rock a trendy graphic tee with high-waisted denim shorts, ladies!
Let's add a touch of urban edge with a leather belt, cool sneakers, and a backpack for all our summer adventures. This outfit is perfect for exploring the city or even rocking out at a summer festival – talk about street style at its finest!

Island Escape: Kimono Top and Beachy Shorts
Close your eyes and imagine yourself on an island paradise, draped in a lightweight and flowy kimono top that embraces that effortless elegance. Match it with beachy white jean shorts, and slide into some strappy sandals for that ultimate island escape look. Don't forget to add your favorite seashell necklace for that touch of beachy bliss – you're now ready to escape to your dreamy island getaway!

Vintage Charm: Polka Dot Blouse and Tailored Shorts
Oh, let's transport ourselves to the bygone era of vintage charm! Embrace those retro vibes with a polka-dot blouse that's both classic and oh-so-charming.
Pair it with tailored shorts in a complementary color, and let's add a wide belt, cat-eye sunglasses, and some vintage-inspired heels for a look that's timeless and sophisticated. Channel your inner vintage diva, and let's rock that vintage charm with pride!

Nautical Elegance: Striped Boat Neck Top and White Shorts

Channel timeless elegance with a classic striped boat neck top that exudes nautical charm. Combine it with crisp white denim shorts to keep the look fresh and clean. Go for boat shoes or espadrilles for a touch of maritime flair. A red lip and a woven tote bag will seal the deal on this chic and classy ensemble.
There you have it! Some fresh outfit inspiration for the remaining hot summer days! I hope these cute summer outfits help you achieve that chic look. Fashion is more than just clothes; it's about embracing our unique selves and feeling confident in our skin. Whether you choose crop tops, linen shorts, or high-waisted chino shorts, remember that you are fabulous just the way you are. Embrace your body shape, experiment with different styles, and create your own fabulous looks. Let's make this summer season a chic and stylish one together.