There's something magical about the warm summer months. Whether you're planning a vineyard tour or winery visit, summer wine tasting is a delightful experience that calls for both style and comfort. After all, who doesn't want to look fabulous while sipping on a glass of heavenly wine?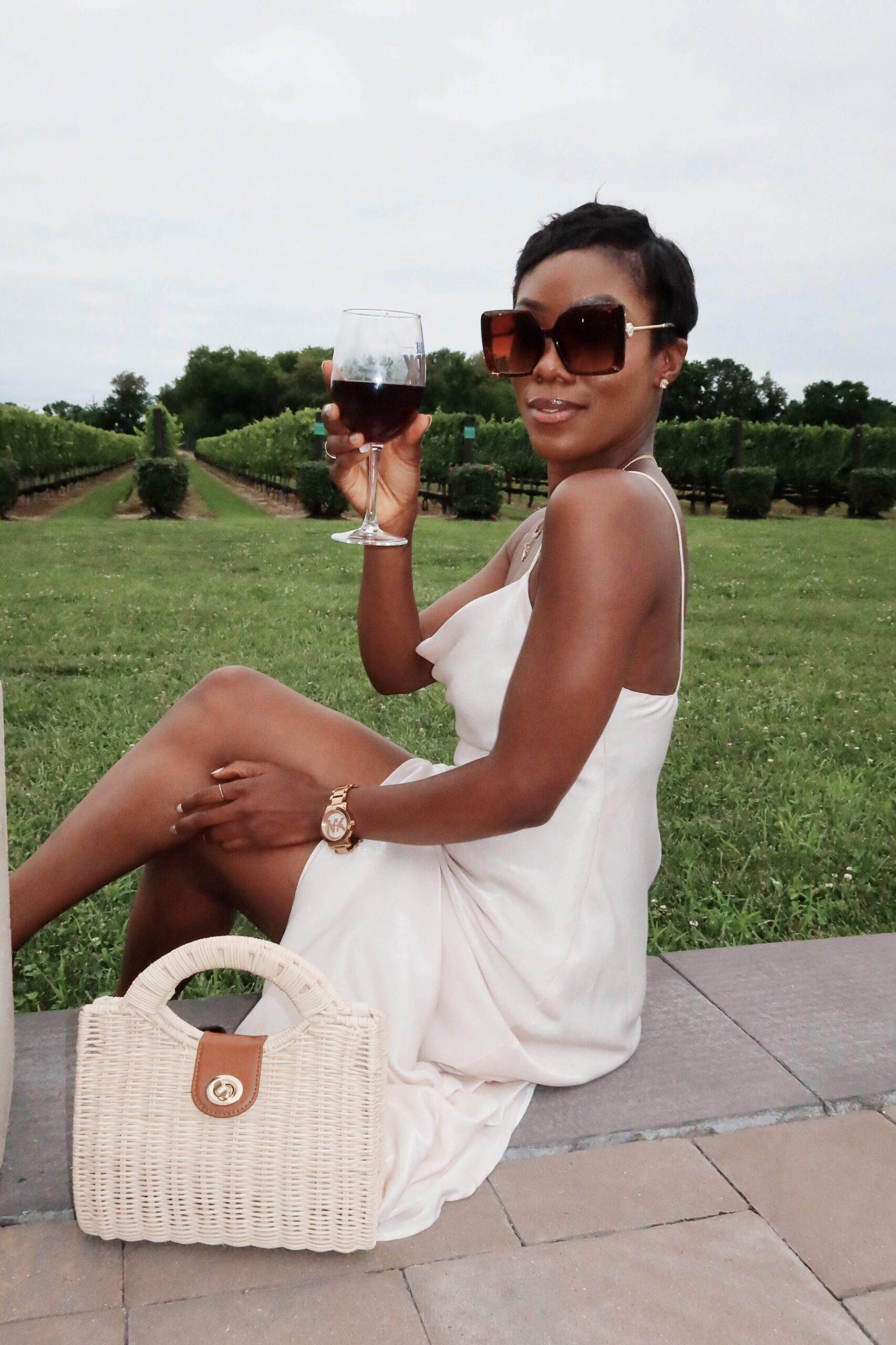 If you are planning a trip to the vineyard this season, you might as well look for outfits that strike the right balance between chic and relaxed.
One of my favorite activities to do during the summer months is to visit wineries and wine-tasting. There's nothing quite like sipping on delicious wines while basking in the sun. Whether you're planning a fun-filled day with your besties, a romantic outing with your significant other, or a casual date, a wine tour is the perfect way to elevate your summer experience. I mean, what's better than dressing up in fabulous outfits, surrounded by breathtaking vineyards, and savoring the taste of fine wines?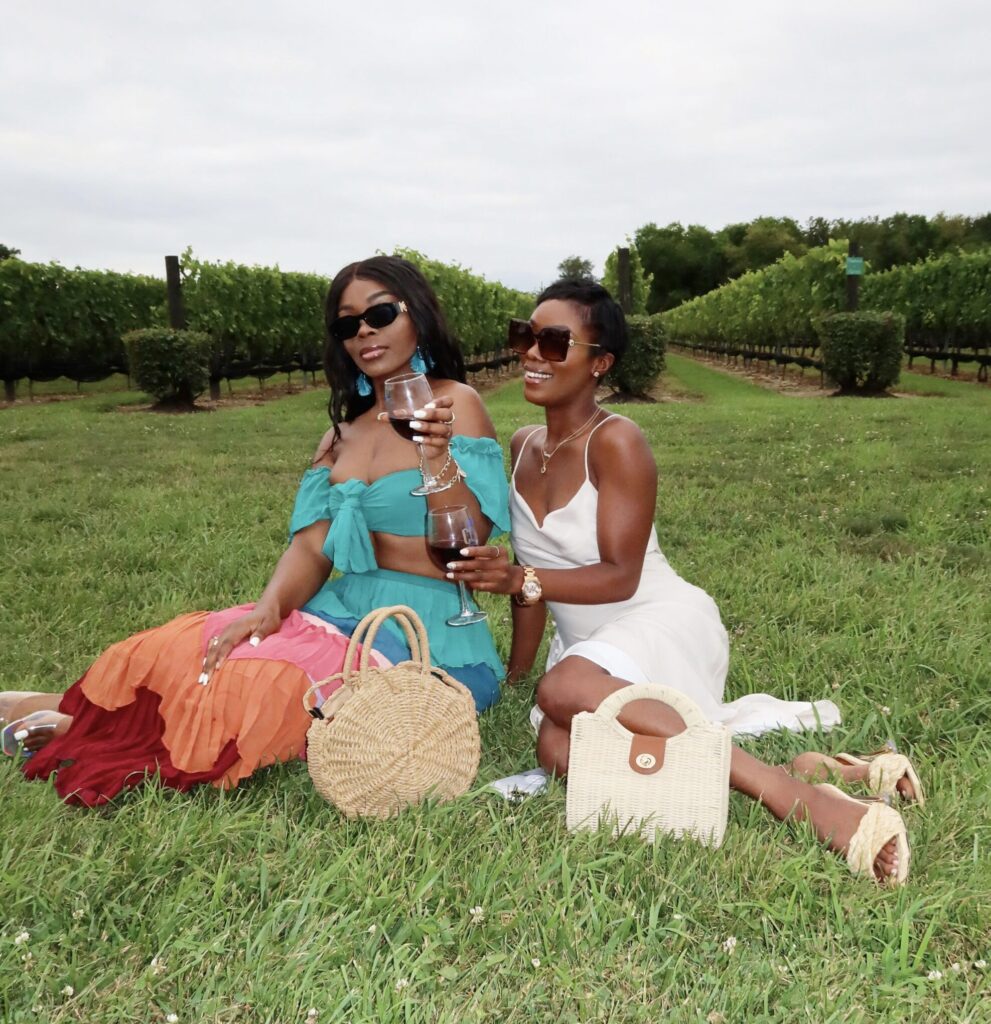 Whether you are jetting off to Napa Valley or visiting your local winery, I'm here to ensure you're dressed to impress. In this post, I am sharing some great summer winery outfit ideas for the summer season. When considering the best attire for a winery tour, the essential items should include comfortable shoes and a light jacket.
The Perfect Dress

Denim Tandem
For a chic and casual summer winery outfit, consider pairing your favorite skinny jeans with a light denim jacket. Lighter shades of denim not only look fantastic in the bright summer sun but also help keep you cool by reflecting the heat. Look for denim made with breathable fabrics like cotton or blended materials with a hint of stretch. These fabrics allow better air circulation, ensuring you stay comfortable during your wine-filled adventure.
Create a casual chic look by pairing your denim pieces with light and airy tops featuring floral patterns or delicate prints. This combination adds a touch of femininity to your outfit while still keeping it casual.
Complete your denim look with the right pair of shoes. Slip into a comfortable pair of flat sandals, and you're ready to explore the vineyard with ease.

On the Sun, Off-the-Shoulder
First things first, let's talk about the foundation of this outfit: those fabulous jeans. You know how much I love a good pair of jeans, and for a winery visit, they're just perfect. Opt for your favorite pair that fits you like a glove and highlights your fabulous curves. Whether they're classic blue denim or a lighter wash, jeans are always a reliable and stylish choice.
Now, onto the top – an off-the-shoulder one will add a touch of elegance to your summer winery outfit. The bare shoulder look is simply irresistible, and it's perfect for showing off a little sun-kissed glow. Choose a top in a flattering color or a fun pattern that reflects your personal style. It's all about feeling confident and fabulous!
Now, let's talk footwear – espadrilles! These trendy shoes are both comfy and stylish, making them the perfect choice for a day of exploring vineyards. Go for a pair with a cute platform or a wedge to add a little height and a touch of glamour. Trust me, you'll be able to walk around the winery with ease and grace.

Vineyard Princess
Embrace the summer vibes with a flowy floral dress paired with comfortable strappy sandals for a chic and effortless look. Go for a beautiful floral midi dress. You know how much I love a good floral pattern – it adds such a lovely touch of femininity and elegance to any outfit. The flowy silhouette of midi dresses will keep you feeling cool and unrestricted as you explore the vineyard.
Now, let's talk footwear. Comfort is key, especially when we're going to be on our feet all day. Opt for strappy sandals that not only complement the dress but also provide the support you need for all the vineyard adventures. Trust me, you'll be able to walk around with ease and still look effortlessly chic.
Oh, and don't forget to complete this summer winery outfit with some cute accessories. A dainty necklace or a stack of bracelets can add that perfect touch of personal flair. But keep it light and airy, just like the dress, so you can fully enjoy your wine-tasting experience without feeling weighed down.

Effortless Elegance: Button-Down & Linen Pants:
When it comes to attending a summer wine-tasting event, you want an outfit that looks polished while keeping you cool and comfortable amidst the sun-kissed vineyards. If you're seeking a look that strikes the perfect balance between sophistication and ease, a combination of a classic button-down shirt and airy linen pants is an ideal choice.
Summer's sweltering heat can be unforgiving, but with linen pants, you can stay effortlessly cool. Choose a pair of lightweight, breathable linen pants in a flattering cut that complements your body shape. Not only will they keep you comfortable throughout the wine-tasting event, but they'll also add a touch of laid-back sophistication to your ensemble. For a fresh and polished look, opt for a classic white button-down shirt.
The crispness of the shirt beautifully contrasts with the relaxed vibe of the linen pants, creating an ensemble that's perfect for both daytime and evening wine tastings. Ensure that the shirt is made of a breathable fabric like cotton to keep you feeling comfortable all day long.
Accessorizing can elevate your ensemble from casual to chic. Consider adding a slim leather belt to cinch your waist and add definition to the outfit.
A statement necklace or a delicate bracelet can also add a touch of personality and sophistication. Since you'll be exploring the vineyards, comfortable footwear is a must. Opt for stylish sandals or low-heeled wedges that provide both comfort and elegance. Neutral tones like tan or beige will effortlessly complement your button-down and linen pants.

Maxi Dresses & Summer Sips:
Bring the essence of summer to the vineyard with a breezy maxi dress. This summer winery outfit is perfect for special occasions and will make you stand out as you sip on your favorite wine. A well-fitted maxi dress can do wonders for your figure, so don't be afraid to embrace styles that accentuate your body's natural beauty.
Whether it's a wrap-style dress that cinches at the waist or an A-line silhouette that flows gracefully, choose a cut that makes you feel like the confident wine connoisseur you are. Floral patterns and vineyard surroundings go hand in hand like a perfect wine pairing. Choose maxi dresses with beautiful floral prints, allowing you to blend in with the natural beauty of the vineyard while celebrating the essence of summer.
Maxi dresses with halter necklines, spaghetti straps, or a stylish off-the-shoulder design add a touch of allure while keeping you feeling fresh. Elevate your maxi dress look with simple yet elegant accessories. A delicate necklace, statement earrings, or a chic sun hat can add that extra touch of sophistication to your wine-tasting ensemble. Pack a light, stylish jacket or a soft shawl to keep you cozy as you savor your wine and enjoy the breathtaking sunset.

Wine Country Casual: White Eyelet Romper and Slide Sandals
To start, let's talk about the eyelet romper. Trust me, this piece is a summer wardrobe must-have. The delicate eyelet detailing adds a touch of elegance, while the romper style keeps it fun and playful. It's the perfect balance between sophistication and easy-going vibes.
Now, let's move on to those adorable slide sandals. Not only are they super trendy right now, but they also provide that no-fuss comfort we all crave during a day of wine-tasting fun. Slip them on, and you're good to go – no struggling with buckles or laces!
Pairing these two pieces together creates a chic and relaxed ensemble that's perfect for your wine-tasting adventures. You'll be strolling through the vineyards with ease, turning heads with your effortless style.
Accessorize this look with some dainty gold jewelry or a cute straw hat to add that extra touch of charm. And don't forget your favorite sunglasses for those picture-perfect vineyard snapshots!

Bohemian Baddie
Opt for a bohemian kimono with vibrant prints and flowing fabric, giving you that carefree and relaxed vibe. The kimono will add a touch of whimsy to your outfit, making it perfect for soaking in the summer sun at the winery.
Now, for the foundation of your outfit – a simple and breezy tank top. Choose a tank in a color that complements the hues of your kimono to create a harmonious and eye-catching look. The tank will keep you cool and comfortable while allowing your kimono to take center stage.
Next up, let's talk bottoms. A pair of shorts is the ideal choice for this bohemian ensemble. You can go with denim shorts for a classic look or opt for a flowy pair that matches the free-spirited nature of your kimono. Whichever you choose, make sure they're comfortable for strolling through the vineyards and sipping on delicious wine.
Now, imagine completing this outfit with some stylish accessories – a wide-brimmed hat, a few layered necklaces, and some boho-inspired bracelets. These little details will elevate your look and add that extra touch of bohemian charm.

Linen Jumpsuit and Statement Earrings
Let's start with the star of the show – the linen jumpsuit. Trust me, this piece is a game-changer for warm-weather events like wine-tasting. The lightweight and airy fabric will keep you feeling cool and fresh, even on the sunniest days. Plus, the jumpsuit's relaxed fit ensures you have the freedom to move and enjoy your wine-tasting experience to the fullest.
To make things even better, jumpsuits are incredibly versatile. You can dress them up or down depending on the occasion. For a winery visit, opt for a jumpsuit in a neutral color like beige or pastel shades. This way, you'll look effortlessly chic without stealing the spotlight from the scenic beauty of the vineyards.
Now, let's talk about those statement earrings! They're the perfect way to add a touch of elegance and elevate your look to a whole new level. With your linen jumpsuit as the canvas, choose earrings that showcase your personal style and taste. Whether you go for bold geometric shapes, vibrant colors, or intricate designs, the earrings will draw attention to your face and accentuate your radiant smile.
Remember, it's all about balance. Since your jumpsuit is likely to be a solid color, the statement earrings will add that perfect pop of glam and complete your ensemble. Trust me, you'll feel like a true fashionista with every step you take!

Crop on Crops
Picture this: the sun-kissed vineyards, the delicate scent of grapes, and you, looking effortlessly chic and comfortable in cropped linen pants and a breezy button-down shirt. Trust me, this ensemble will have you feeling like the ultimate fashionista while indulging in delightful wine-tasting experiences.
Let's break it down, shall we? Cropped linen pants are a summer staple that combines style and breathability in one go. Not only do they keep you cool during those sunny vineyard tours, but they also add an air of sophistication to your look. Pair them with a light and airy button-down shirt for that touch of elegance that's just perfect for a winery setting.
Now, when it comes to choosing the right button-down shirt, opt for one in a soft and flowy fabric. Think lightweight cotton or linen to ensure maximum comfort. You can go for classic solid colors like white or pastels, or even experiment with subtle prints like stripes or small floral patterns for that extra flair.
As for the accessories, keep it simple yet stylish. A delicate pendant necklace or some understated earrings can add a touch of charm without overpowering the overall elegance of the outfit. When it comes to footwear, go for something comfortable yet chic, like strappy sandals or stylish flats. You'll be walking around the vineyards and exploring the winery, so it's essential to have shoes that won't let you down.

Gingham Sundress and White Sneakers
Rock a cute gingham sundress with white sneakers for a fun and playful outfit, perfect for a wine-tasting tour in Sonoma country. Start by picking a cute gingham sundress in a color that you love. A gingham pattern is a great option for adding a touch of playful charm to your outfit. Choose a length that flatters your figure and makes you feel confident. Flowy dresses are the best choice for warmer weather.
Swap out the typical sandals or flats for white sneakers – they are the ultimate footwear choice for both style and comfort. Not only will your feet thank you for it, but you'll also be ready to wander through the vineyards without worry. Keep the accessories simple and fuss-free. A delicate pendant necklace or a stack of dainty bracelets will add a subtle touch of elegance without overpowering the overall look.
Since we'll be spending a lot of time outdoors, don't forget to bring a cute sun hat and some oversized sunglasses. Not only will they protect you from the sun, but they'll also add an extra dose of chic to your outfit.

Exploring the wine country at this time of year is an easy way to have much fun, especially when you have the perfect outfit to accompany you. Dressing comfortably and stylishly with the right shoes, light jackets, and dresses for different seasons is an important factor to consider. Whether you're indulging in wine-tasting experiences, vineyard tours, or attending a special occasion like a winery wedding, these 15 summer winery outfit ideas are sure to make you feel like the ultimate wine lover. So, raise your wine glass and toast to the beautiful place, the delicious wine, and the joy of dressing up in style!