One of my favorite summer wardrobe staples is a good pair of white jeans; it's a summer style essential for a good reason. White denim is an incredibly versatile fabric that can effortlessly transition from casual to chic and can be worn through all four seasons; it's a year-round wardrobe staple.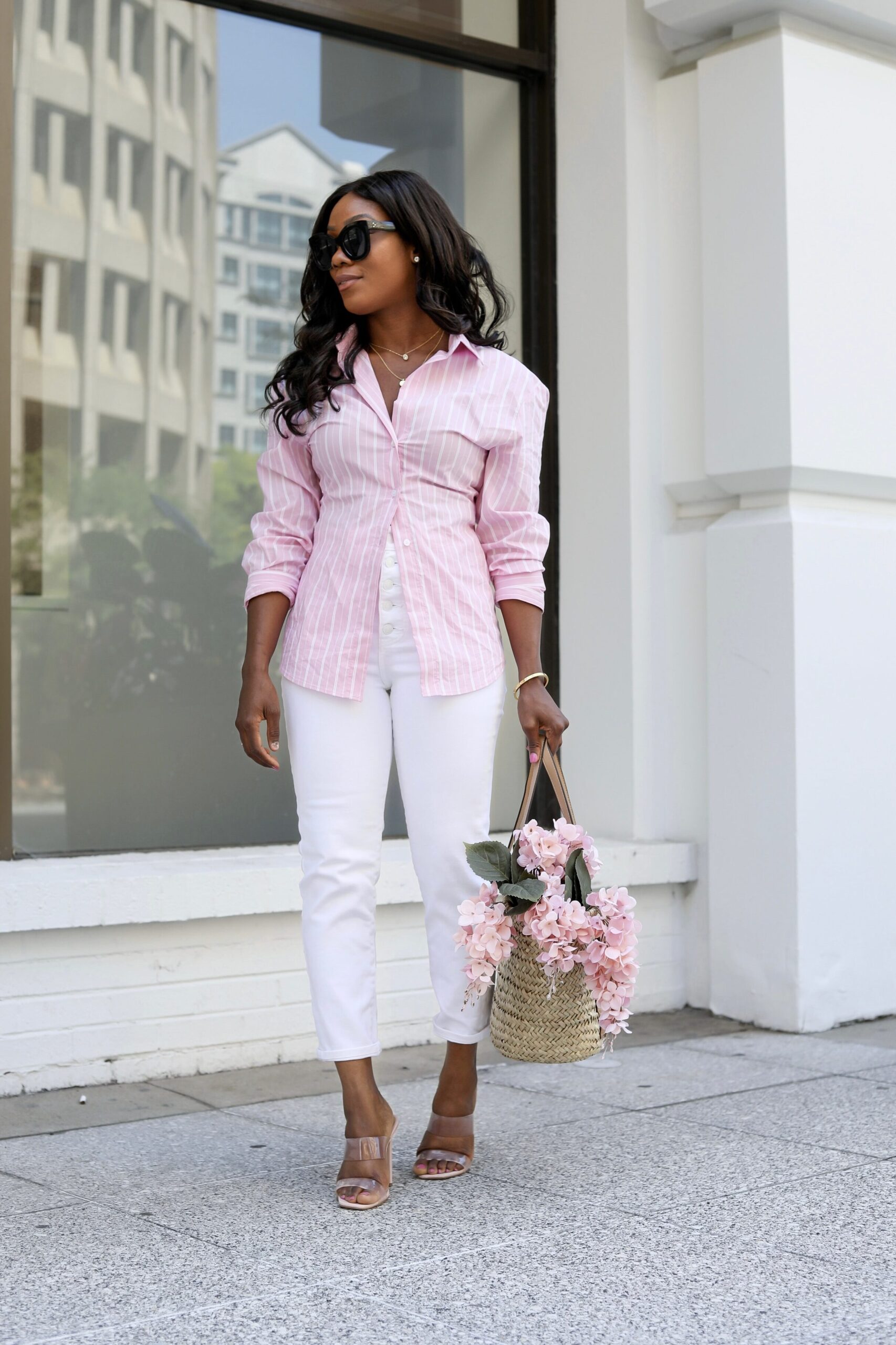 If you're unsure how to style a pair of white jeans that's been sitting in your closet, read on for some tips. In this post, I am sharing 11 amazing outfit ideas featuring white jeans and white pants. These outfits are great for all sizes and body types; whether you are looking for cute white jeans outfits for labor day or just something stylish for the time of year, I've got you covered.

Why You Need A Good Pair Of White Jeans.
White jeans are a versatile and timeless wardrobe essential that every woman should have in her closet. They are perfect for creating a casual daytime outfit when paired with a colorful top and sandals or a sophisticated evening look with heels and a classy blouse. White jeans complement a wide range of body shapes and sizes, making them a flattering choice for all. They can transition between seasons, making them a must-have staple. When you have a good-quality pair of jeans, you can wear them all year round.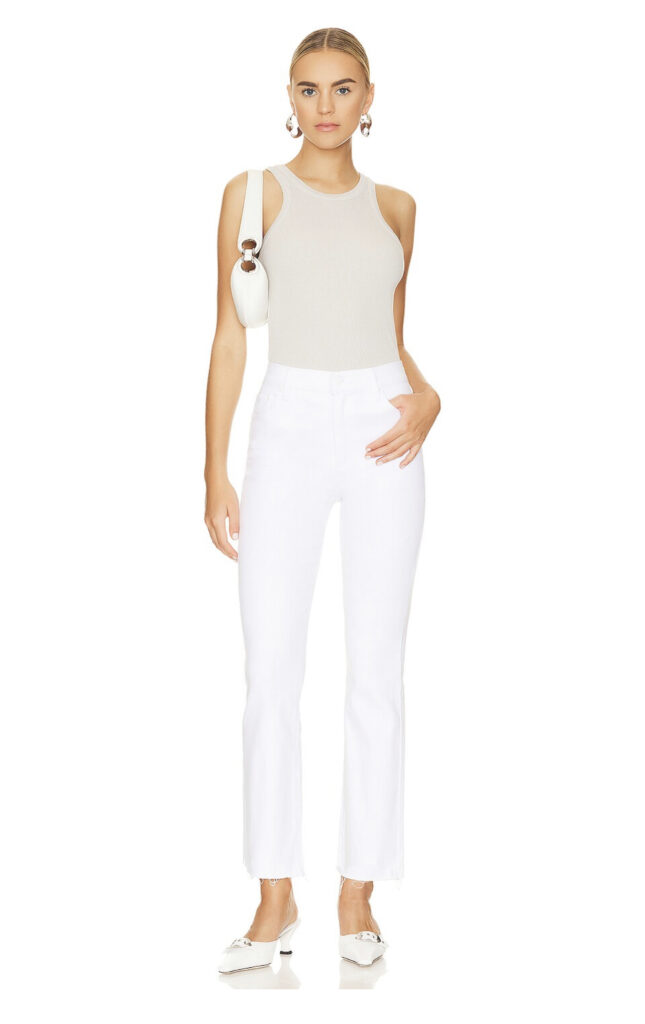 The Classic Combination: White Jeans + Light-Colored Top
The easiest way to style white jeans is to pair them with a light-colored top. Find a pair of white jeans that make you feel confident and comfortable. There are so many different styles and fits out there, so you're sure to find something that flatters your body type. Consider the style that suits you best, whether it's skinny, straight-leg, wide-leg, or high-waisted. White jeans with a bit of stretch can provide extra comfort, especially during hot summer days.

When it comes to the top, select a light-colored piece that complements the summer vibe. Soft pastel shades like baby blue, blush pink, mint green, or lavender work beautifully with white jeans. Alternatively, you can go for a crisp white top for an all-white ensemble. Pay attention to your skin tone. Cool-toned individuals may opt for pastels and soft blues, while warm-toned individuals may look stunning in blush pinks and peachy hues.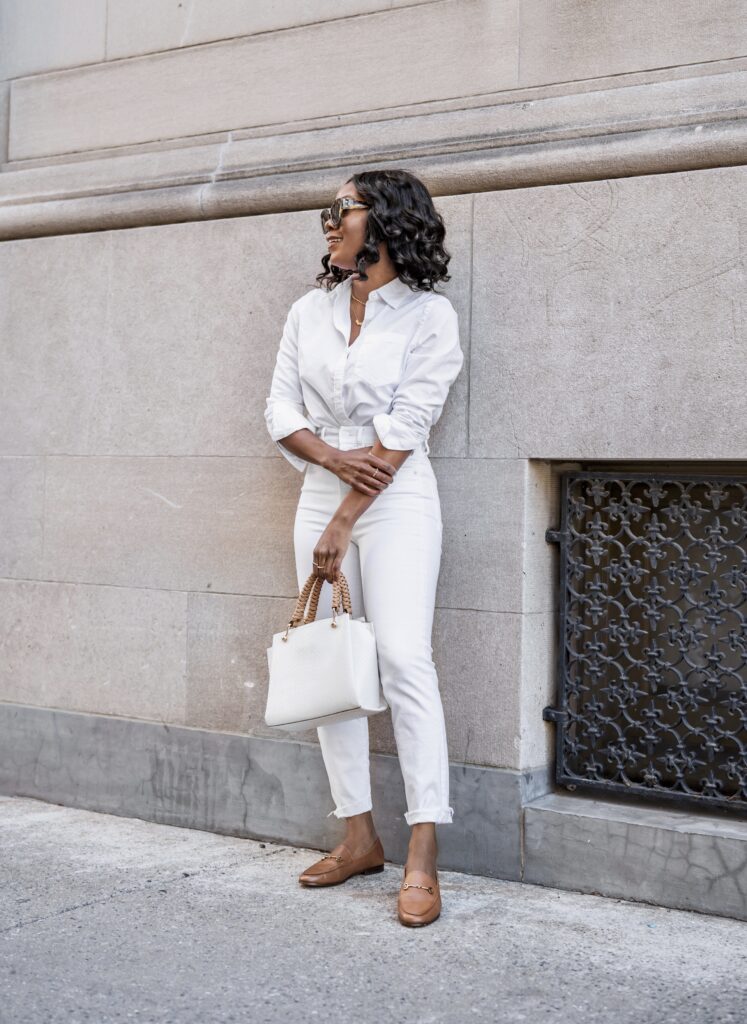 Enhance your outfit with a few carefully chosen accessories. A simple necklace, dainty earrings, or a straw hat can elevate your look without overpowering the simplicity of white jeans and a light-colored top. For a relaxed and casual look, pair your white jeans with sandals, espadrilles, or white sneakers. If you want to dress it up, wedges or nude heels can add a touch of elegance.

Effortless Elegance: White Skinny Jeans + Denim Jacket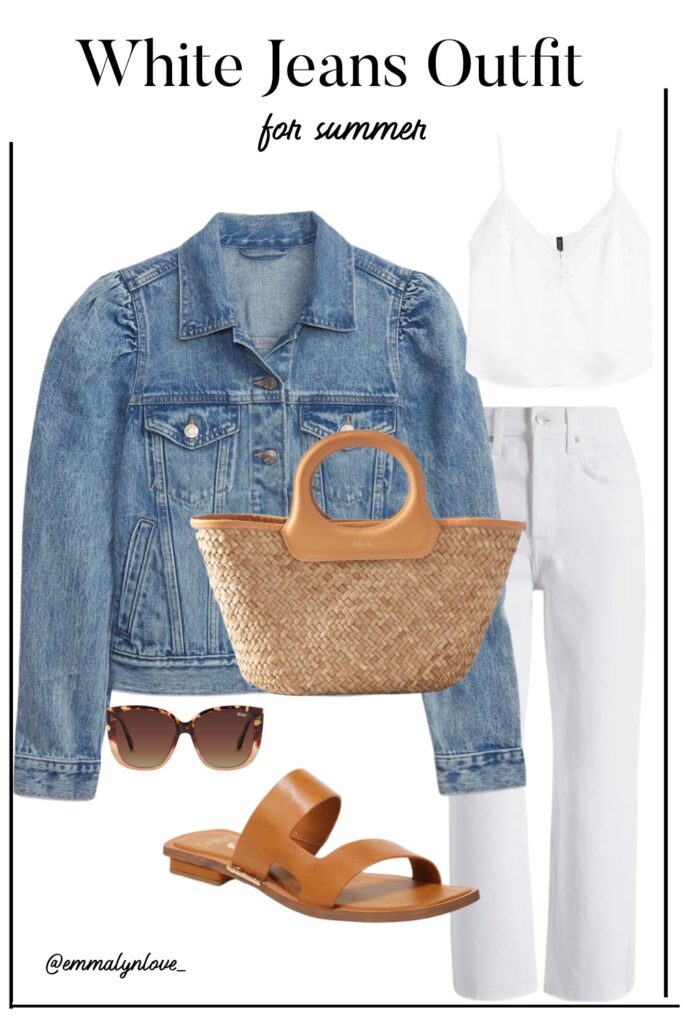 For a timeless and chic ensemble, combine white skinny jeans with a classic denim jacket. This outfit is a go-to for Alexa Chung and many other style icons. Select a pair of well-fitted white skinny jeans that flatter your body shape. Ensure they are comfortable and have a slight stretch for ease of movement.
Opt for a denim jacket in a medium wash or a classic blue shade. The jacket should fit well, with the sleeves ending at your wrists and the hem falling at your waist or hips. For a timeless and crisp look, pair your white skinny jeans with a simple white t-shirt or a white blouse. This monochromatic combination creates a clean and elegant ensemble.

If you're wearing a loose-fitting top, tuck it into your white jeans to define your waistline and create a more polished appearance. Alternatively, you can tie a knot at the front of the top to add a touch of casual flair. Choose footwear that complements the style you want to achieve. For a relaxed vibe, opt for white sneakers or sandals. You can also opt for heels and wedges for a dressier look.
Pair your outfit with a crossbody bag or a tote for a practical and fashionable touch. Choose a bag that matches the occasion and complements your overall look.

Classic Stripes: White Jeans + Striped Top
Combine your white jeans with a fitted, high-quality striped top in neutral colors like black and white or old navy and white. This pairing is perfect for a slightly dressier occasion. Add a tailored blazer or a structured denim jacket for an extra touch of sophistication. Finish the look with pointed-toe flats or low heels.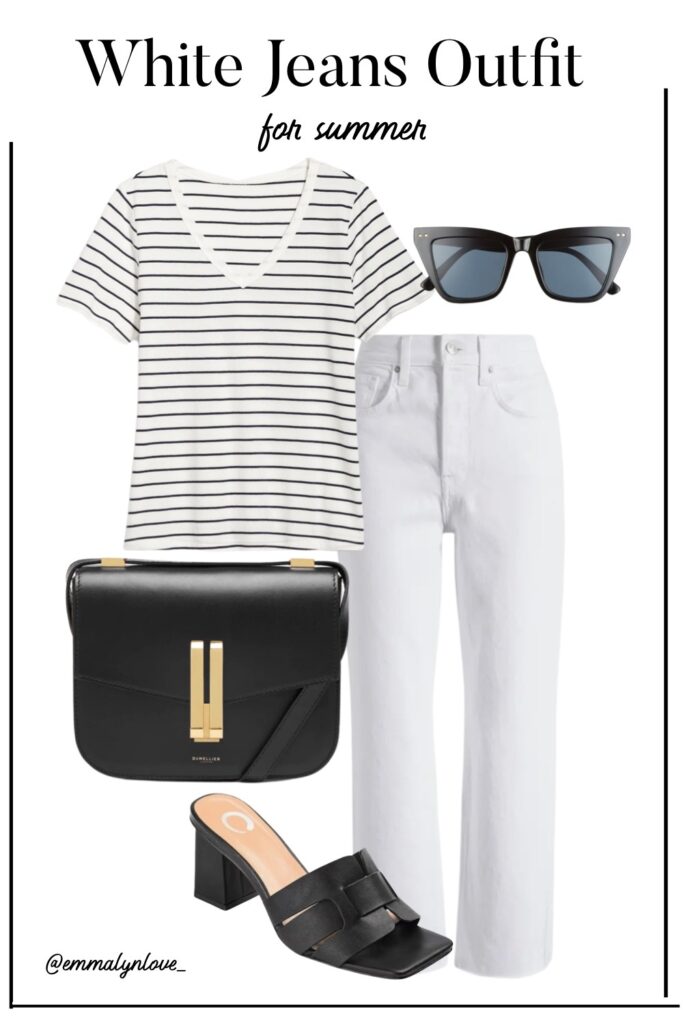 You can also add an edgy twist to your outfit by opting for a black-and-white striped top with metallic accents. Combine this top with ripped or distressed white jeans for a cool and rebellious look. Complete the edgy vibe with a pair of sneakers and statement accessories.


High-Waisted Chic: White Jeans + Crop Top
For those with a slim waist and hourglass figure, high-waisted white jeans are a great option. The combination of high-rise jeans and a crop top allows you to accentuate your waist and elongate your legs, creating a stylish and on-trend look. Start by selecting a pair of high-rise white jeans that fit you well and flatter your body shape. Look for a style that sits at your natural waist and has a slim fit through the hips and thighs.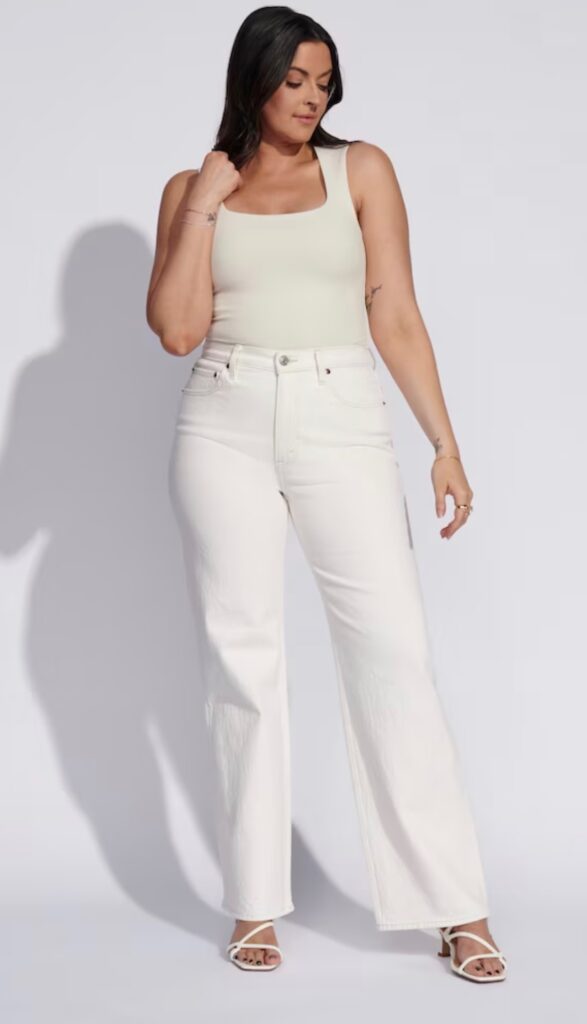 High-rise jeans are great for elongating your silhouette and providing a more defined waistline. When choosing a crop top to pair with your high-rise white jeans, consider the occasion and your style. You can choose a simple, fitted crop top for a sleek and minimalist look or a flowy and bohemian-inspired crop top for a more relaxed vibe. Keep in mind the length of the crop top; it should hit just above the waistband of your jeans for a balanced and stylish appearance.

For a classic and chic look, consider going monochrome with your outfit. Pair white high-rise jeans with a white crop top for an effortlessly polished ensemble. Monochromatic looks can make you appear taller and create a sophisticated and elegant style. Accessorizing can elevate your outfit, so choose accessories that complement your look. A statement necklace, layered bracelets, or oversized sunglasses can add a touch of glamour and complete your ensemble.
Tropical Prints: White Jeans + Bright, Colorful Top

Elevate your white jeans outfit with a pop of color. Styling white jeans with a bright tropical print top can create a fun and vibrant summer look. The combination of crisp white denim and the bold, colorful print is perfect for embracing the warm-weather vibes. Start with a well-fitting pair of white jeans that flatter your body type.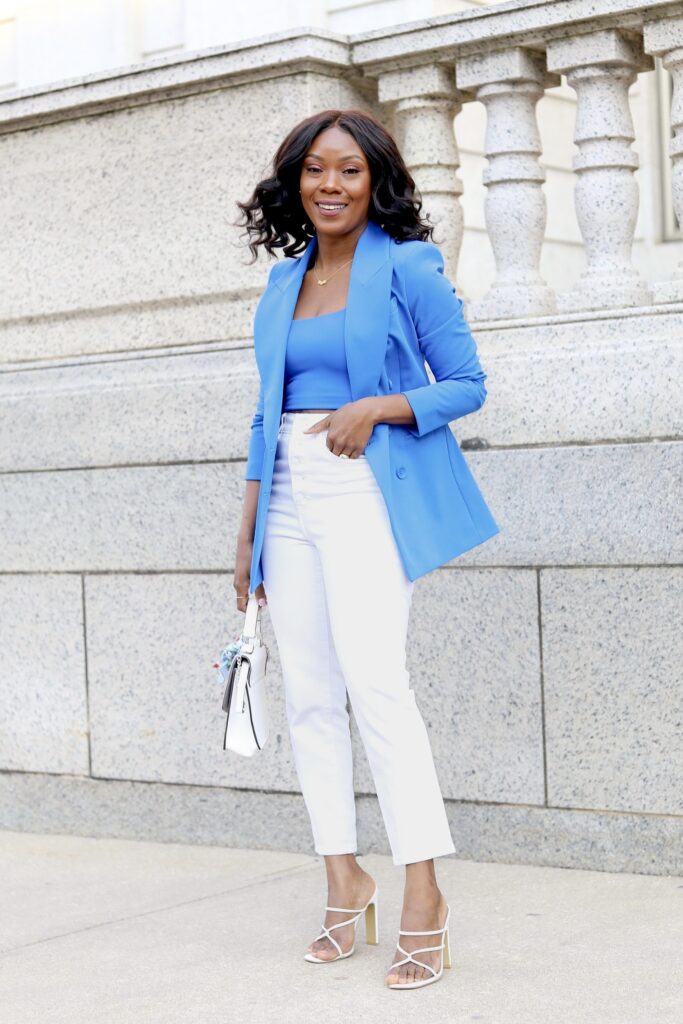 Look for a top with a lively tropical print in bold and eye-catching colors. Floral patterns, exotic leaves, or vibrant fruit motifs are popular choices for a tropical-inspired look. The key is to opt for a print that truly reflects the essence of summer.
Casual and Cool: White Jeans + Oversized Shirt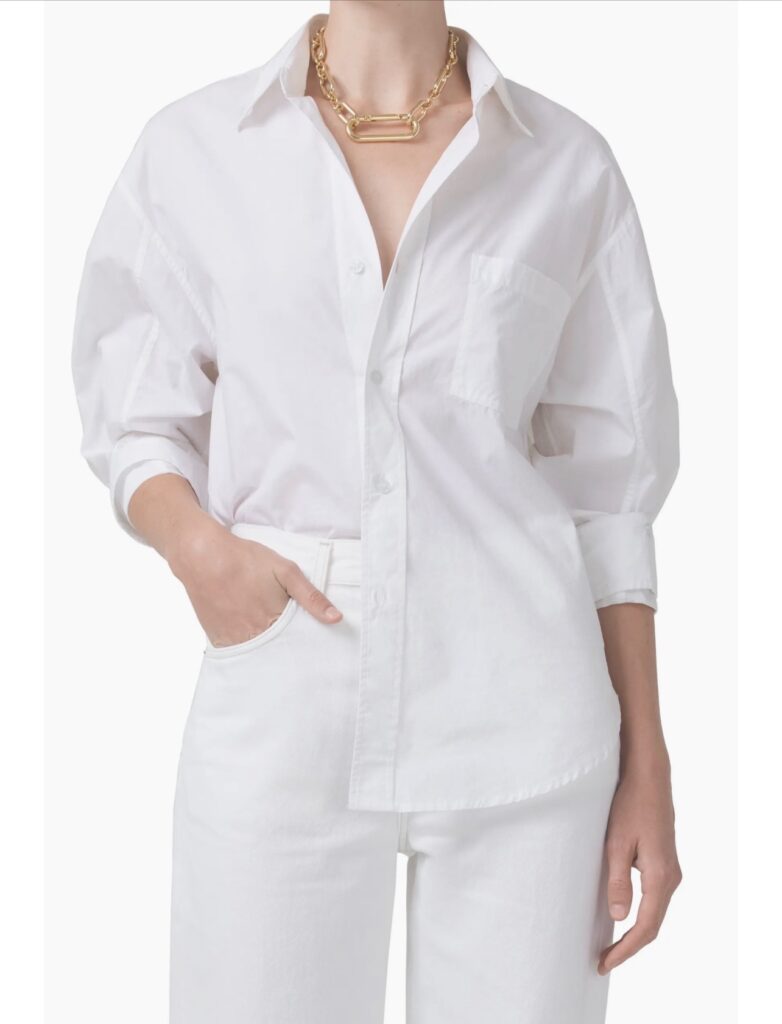 On days when you're seeking comfort without compromising style, an oversized shirt paired with white jeans is the way to go. Look for a button-down shirt or a loose-fitting blouse that's intentionally designed to be oversized. Opt for lightweight, breathable fabrics like cotton or linen to keep it comfortable during warmer months.

When wearing an oversized shirt with white jeans, consider either partially tucking in the front of the shirt or tying a loose knot at the waist to add some shape to the outfit. This helps prevent the ensemble from looking too baggy or overwhelming. For a relaxed and casual vibe, roll up the sleeves of the oversized shirt. This small styling detail adds a touch of effortlessness to the overall outfit.
Effortless Athleisure: White Jeans + Pair of Sneakers
Combine fashion and comfort by styling your white jeans with a pair of chic sneakers. This look is perfect for running errands, hanging out with friends, or simply enjoying a day out in the city. Opt for slim-fit or skinny white jeans to create a sleek silhouette. Layer a sporty tank top or a stylish hoodie for a laid-back athleisure vibe. Add a cap or sunglasses for a sporty edge, making this outfit ideal for casual outings and outdoor activities.
For a laid-back and stylish outfit, choose a fitted or slightly loose white tee or a relaxed button-down shirt to create a clean and minimalist look. You can roll up the cuffs of your jeans for an added touch of coolness.

Since the tropical print top will likely be the focal point of your outfit, balance the proportions by choosing a top that's not too overwhelming in terms of volume. If the top is flowy or oversized, consider tucking it in or knotting it at the waist to create a more defined silhouette.
Bohemian Vibes: White Wide-Leg Jeans + Crocheted Top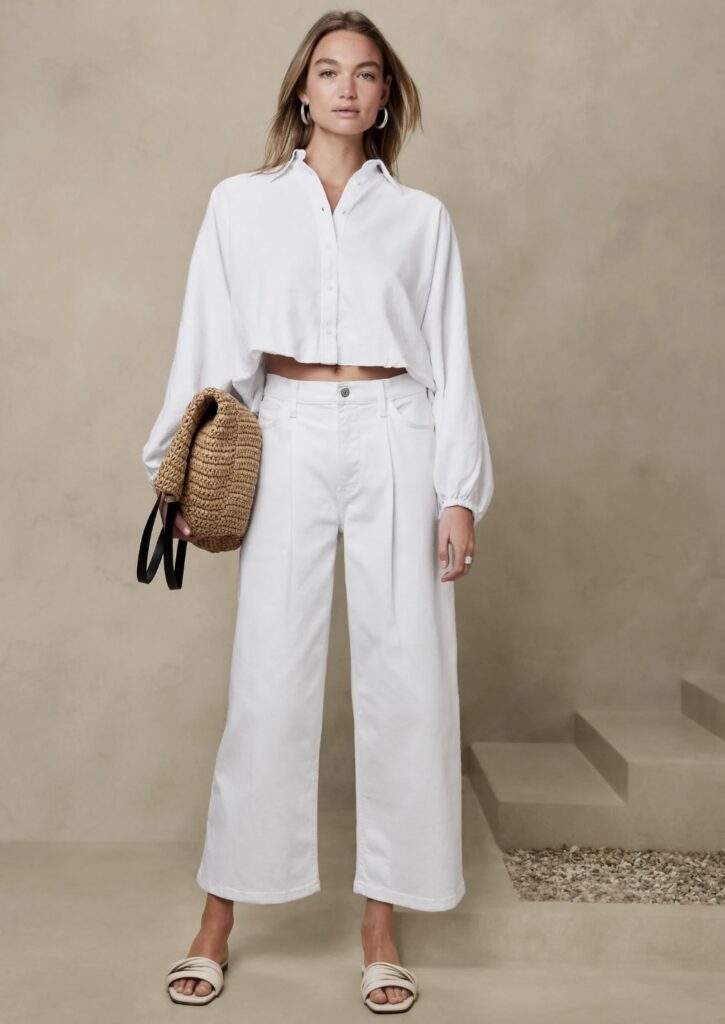 Ensure that your white wide-leg jeans fit comfortably at your waist and hips. Look for a pair that drapes nicely and doesn't cling too tightly to your legs. Opt for a crocheted top in a color that complements the white jeans. Neutral tones like ivory, cream, or light pastels work well, but you can also experiment with bold colors if you want to make a statement. 

To achieve a bohemian-inspired look, choose a crocheted top with intricate details and a relaxed fit. Off-the-shoulder or bell-sleeved crocheted tops can add a touch of romance and whimsy to the outfit. Decide whether you want to tuck in the crocheted top or leave it untucked. Tucking the top can define your waistline and create a more polished look, while leaving it untucked gives a breezy and laid-back feel. Add some bohemian accessories to complement the crocheted top. Layered necklaces, beaded bracelets, and statement earrings can enhance the free-spirited vibe of the outfit. Consider adding a wide-brimmed hat for a touch of drama.

Edgy Sophistication: White Short Jeans + Graphic Tee
For a look that's both edgy and sophisticated, pair your white short jeans with a graphic tee. Opt for a pair of white jeans that fits you well and complements your body type. Whether you prefer fitted shorts for a sleek silhouette or distressed shorts for a more relaxed vibe, ensure they're comfortable and flattering.
Opt for a high waist shorts and tuck in your loose graphic tee at the front for a stylish look. You also choose a belt bag and a cap to further accessorize your look.
The choice of footwear can significantly impact the overall vibe of the outfit. For a casual and laid-back look, go for white sneakers or flat sandals. If you want to add some height and sophistication, opt for a pair of heeled sandals.

City Chic: White Jeans + Shirt + Wedges
For a sleek and stylish city look, pair white jeans with sturdy wedges. This combination offers a versatile and fashionable outfit that's ideal for any urban adventure. Wedges are versatile and stylish footwear that pairs well with various outfits. Choose a style with a comfortable heel height suitable for your daily activities.

For a casual-chic look, start by pairing your white jeans with a simple white t-shirt or a lightweight neutral-colored blouse. This creates a clean and fresh base for your outfit. Tuck in the shirt for a more polished appearance, or leave it untucked for a relaxed vibe.
Depending on the weather, consider layering with a stylish blazer or a denim jacket. The contrast of the structured layer with the relaxed white jeans and wedges will create an appealing and balanced outfit.
Effortlessly Polished: White Jeans + Black Top + Black Coat
Even in the summer months, a classic black-and-white combination is always in style. Pair your white jeans with a black top and a chic black coat for a sophisticated and timeless ensemble. Start with a pair of well-fitted white jeans. Opt for a slim or skinny fit to create a sleek silhouette.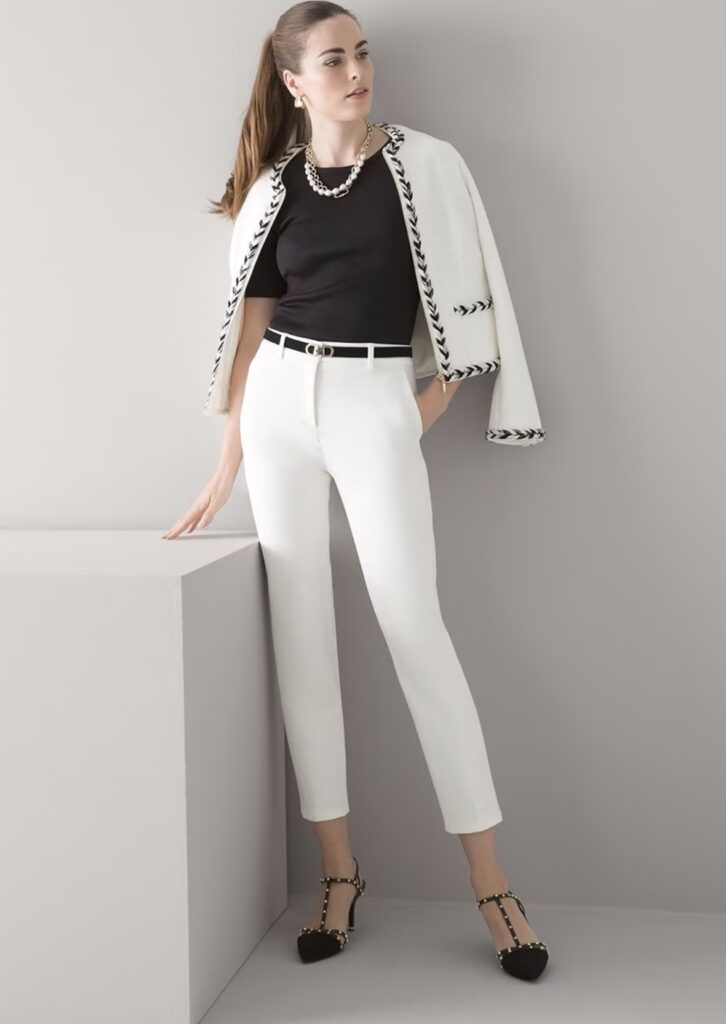 Pair the white jeans with a black top of your choice. A black crewneck or V-neck t-shirt, a black blouse, or even a black turtleneck are all great options. Next, add a black coat to complete the monochromatic ensemble. Depending on the season and the occasion, you can choose a black trench coat, a black pea coat, a black blazer, or a black leather jacket. The coat adds an extra layer of sophistication to the outfit and is especially great for cooler weather or more formal events. 

Since the outfit is predominantly black and white, accessorizing becomes crucial to add some flair. Opt for statement jewelry in silver or gold to create an elegant contrast against the monochromatic backdrop. A chunky necklace or a pair of bold earrings can instantly elevate the look. To complement the monochromatic style, go for a black handbag. Whether it's a sleek black clutch, a classic black leather tote, or a chic black crossbody bag, it will tie the whole look together seamlessly.

With the right pair of white jeans in your wardrobe, you can effortlessly create a multitude of stylish outfits for summer and beyond. Whether you prefer a classic silhouette or want to experiment with bold statement pieces, white jeans offer endless possibilities for year-round wear. Embrace the versatility of white denim, explore different ways to style it, and let your creativity shine in your warm-weather ensembles. Happy styling!